Apple grants Windows PCs the right to run Safari for Windows
Except where it doesn't
In a sudden about-face, Apple has allowed Safari for Windows to run on Windows PCs.
Until yesterday, Apple's Safari for Windows license agreement permitted users to install the browser on no more than "a single Apple-labeled computer." But after a setteB.IT-fueled exposé from The Reg, Steve Jobs and his minions have changed the license, telling the world that installing Safari for Windows on a Windows PC isn't such a bad idea after all.
At least, we think that's what they're telling the world. Apple has changed the license posted to its web site, replacing "a single Apple-labeled computer" with "each computer owned or controlled by you." But if you actually attempt to install Safari for Windows on a Windows machine, you're still confronted with a Jobsian paradox: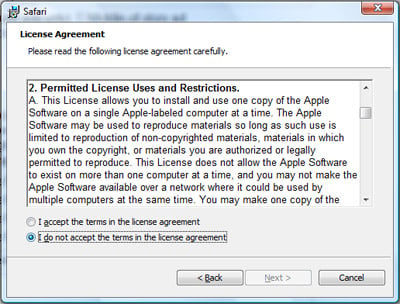 Jobsian paradox
This means that Windows users fooled into downloading Safari for Windows are now presented with not one license conundrum, but two. First, they must wrap their heads around a EULA that tells them not to install a Windows app on a Windows PC. Then they must reconcile two contradictory licenses for the same piece of software.
To summarize: Apple has made itself look even sillier. ®