Asus' next-gen 8.9in Eee PC 900 will come complete with a MacBook Air-style multi-touch touchpad, documents filed with the US Federal Communications Commission (FCC) have revealed.
Among them, the 900's manual, which explains that in addition to all the usual tap and scroll actions, the tiny touchpad has "multi-finger gesture input... to allow easy web and document navigation".
Further details are revealed on another page: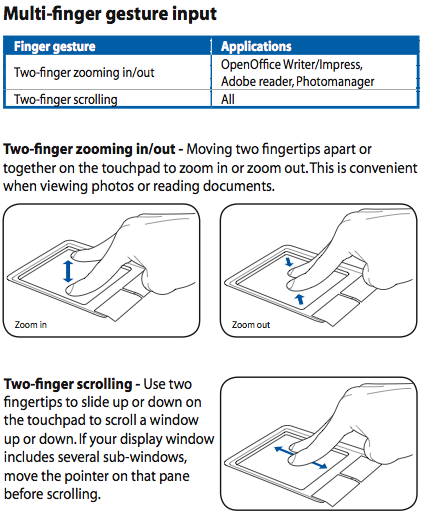 Asus' Eee PC 900 manual: multi-touch revealed
Apple made a big deal of the Air's multi-touch touchpad when it launched the skinny laptop in January. It's since re-released the MacBook Pro with a similiar, large, gesture-friendly touchpad. Among these machines' repertory of gestures are pinching two fingers to zoom out of a page or image, and the reverse to zoom in.
The 900's manual shows it offers the same gestures, although they won't work in all the computer's bundled applications. It also adds two-finger scrolling.
The FCC filings also show a version of the sub-notebook with integrated Bluetooth, suggesting that this wireless technology may join Wi-Fi in the final, shipping version of the 900. That's not a feature Asus has mentioned up to this point, but it's worth remembering that it makes more sense for the company to have the machine tested with Bluetooth than Wi-Fi only in case it wants to add a Bluetooth option in the future. It doesn't mean the technology will be on-board from the start.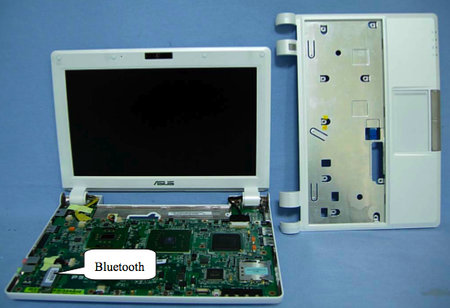 Tested with Bluetooth
The manual shows how much more screen real estate the 900's 8.9in, 1024 x 768 display delivers. The laptop's Linux-based front end now has more room to breathe, and the task bar becomes less intrusive. That's certain to appeal to buyers who've found the current Eee's 7in, 800 x 480 screen too cramped.
But if the pictures of the test kit provided to the FCC are anything to go by, 900 owners will get a laptop-type power brick - albeit a small one - rather than the phone-style AC adaptor that comes with the current Eee.
Visually, there's no difference between the two machines beyond the 900's slightly larger size. The sub-notebook's array of software seems largely unchanged from the previous release.
Similar topics