First permitted in-flight mobile call made
Hello? Yeah, I'm on a plane...
UK communications regulator Ofcom yesterday cleared the way for mobile phone calls to be made on board aircraft, but airline Emirates has already begun allowing passengers to phone home from the wide blue yonder.
The airline today claimed it was the first commercial airline to have permitted a mobile call to be made from a plane. It said the call was made during a flight between its native Dubai to Casablanca. It didn't say at what point in the journey the call was put through, but it was made on 21 March.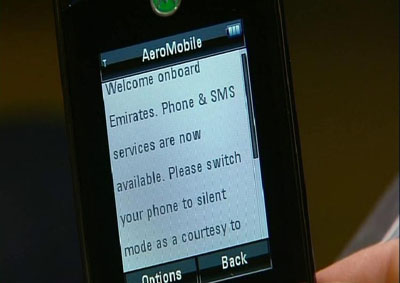 Emirates now offers in-flight calls on some routes
However, Emirates has said the plane was an Airbus A340 fitted with technology to prevent mobiles from interfering with the plane's electronic equipment.
Ofcom's ruling will eventually allow airlines flying in UK airspace to install GSM basestations, operating over the 1800MHz band, on board aircraft. Calls are only allowed to be made when planes are 3000m above the ground, and cabin crew can turn off the equipment at any time.
It's up to individual airlines to decide if they want to offer in-flight calls, for which airlines must first obtain a special licence. Ofcom will hand these out for free, but the European Aviation Safety Agency calls the shots over the safety of plane-based call equipment, so airlines will need EASA authorisation for any mobile phone basestation they install.