Endeavour space shuttle returns home
Florida touchdown under cover of night
The space shuttle Endeavour and its seven-member crew landed safely at NASA's Kennedy Space Center late Wednesday evening, ending the 16-day mission to the International Space Station.
The shuttle touched down 8:39 PM US Eastern time (12:39 AM GMT) in an unusual nighttime landing after postponing its first opportunity to de-orbit due to cloudy weather.
"Welcome home Endeavour," mission control radioed in to the shuttle over a live NASA TV broadcast. "Congrats to the entire crew."
Endeavour's team completed one of NASA's longest and busiest shuttle missions ever, performing five spacewalks in the 12 days the shuttle was docked with the orbital station. The trip outlasted previous visits by one day.
Mission STS-123 saw the delivery and installation of the first section of Japan's Kibo laboratory — the country's primary contribution to a 15-nation partnership to equip and operate the ISS. Two more trips planned to deliver the remaining parts, which will make Kibo the orbital outpost's largest science laboratory.
The crew also attached the Canadian-built robot, "Special Purpose Dextrous Manipulator, or Dextre. The robot's two 11-foot arms will be used for maintenance work as well as eventually loading and unloading cargo from visiting shuttles.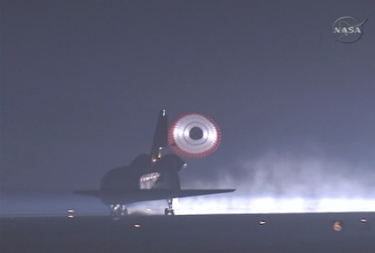 Image courtesy NASA TV
Today's landing brings relief to the French ISS crew member Léopold Eyharts, who returns Earthside after one and a half months aboard the station. Replacing Eyharts is American Garrett Reisman.
NASA's next scheduled mission is set for May 25 to deliver Kibo's second module. The agency plans for 10 more missions to fully construct the station by 2010, when NASA's shuttle fleet will be retired to focus on its successor, the Orion spacecraft. ®