Video may have killed the radio star, but a new report has found that emails and picture messaging could be killing off the traditional holiday postcard.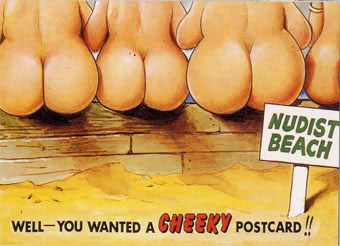 Bamforth's 'cheeky' postcards have been around since about 1890
Broadcaster ITV surveyed 2000 people recently about the ways they keep in touch with friends and family during a holiday. Some 67 per cent admitted to going online to, say, send an email or upload photos while sunning themselves.
So much for 'getting away from it all'...
The report claims such holiday connectivity has led to a 75 per cent decline in the number of postcards send from holiday destinations over the past ten years. Although Register Hardware thinks the drop might also be related to the time it takes so many postcards to arrive at their destinations...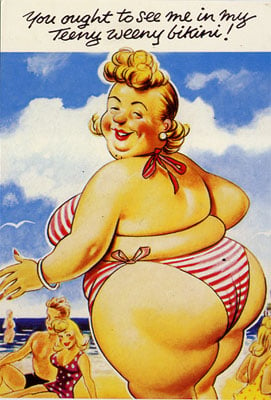 Would you prefer to recieve this or a picture message?
ITV said the surge in internet use over the last decade means that more people than ever now live their lives through email and the web. This factor, the broadcaster's spokesman said, will ultimately lead to the death of the postcard.
Ian Wallace, owner of renowned cheeky postcard publisher Bamforth, told Register Hardware that it sold up to 30m postcards annually between the 1950s and 1960s, but admitted that sales have slowed since.
"Technology isn't to blame for the postcard's death. Things like mobile phones can be used as replacement postcards, sent over the phone networks instead of by post," said Wallace.
Similar topics