LG brings 6x Blu-ray, HD DVD drive to Blighty
Cure for format war hangovers
LG's 6x speed external Blu-ray Disc burner and HD DVD reader, the BE06LU10, is about to arrive on UK soil, the Korean company chirped today.
The black, white and blue-glow unit is being pitched as the perfect cure for format war hangovers, allowing HD DVD backers to play their disc collection on a PC while embracing Blu-ray not only as the victorious pre-recorded disc format but as the future of data archiving too.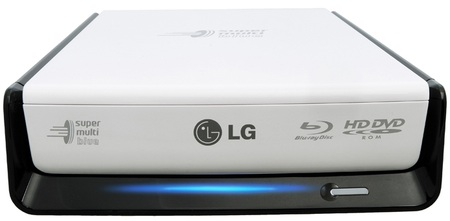 LG's BE06LU10: format war? What format war?
The LG drive will only burn write-once single-layer, 25GB BD-Rs at 6x - bung in a dual-layer, 50GB BD-R and the speed drops to 4x, then to 2x if you want to use re-writeable BD-RE media of either capacity.
It'll also write single- and dual-layer DVD±R/RW and CD-R/RW media at speeds of 4-16x and 24-40x, respectively.
LG went all coy on us when we asked for a price, but it did reveal Amazon.co.uk, for one, is planning to charge £277 for the drive.