Wii 2.1 sound system
Nothing wee about this sound system
Review It's well known that a speaker set of reasonable quality can substantially enhance your gaming experience, but if a high-end hi-fi system doesn't yet live in your lounge, this 2.1-channel Wii-friendly speaker set might make a superb substitute.
Let's face facts, the Wii is better suited to social gaming than either the Xbox 360 or the PS3. A few friends are round, you've just cooked a delicious dinner, now you feel like a little nine-hole action in the luxury of your own living room. The Wii's the machine to play it on.
And with this affordable and effective 2.1 speaker set, you can now add stereo sound to that group game of golf.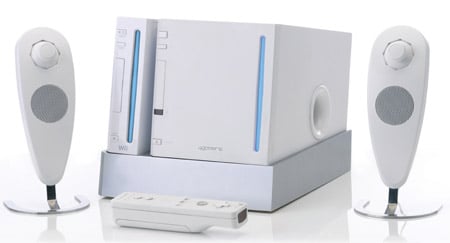 Wii 2.1 speaker system: tidy and self-contained
The system is designed to complement the Wii console, even down to the the rectangular design of the sub-woofer, with controls situated on the left and the long, vertical power LED perfectly positioned symmetrically with the disc slot on the console itself.
The sub-woofer sits in a cradle that's similar in design to the original one for the Wii, but also equipped with a slot for the console itself. So the whole package not only looks tidy but also sits neatly, self-contained under any TV or screen, measuring 15 x 17 x 25cm and weighing 2.8kg.
The two lightweight satellite speakers - each measuring 202 x 94 x 75mm and weighing just 170g - have also been designed to match the overall aesthetic. Crafted in the same glossy, pearl-white plastic as the Wii, they've been built to resemble the nunchuck, even down to the octagonal joystick housing at the top.
Setting the speakers up is extremely easy: just connect up the plugs on the relevant ports so the sound comes totally through the speakers and not the TV. The treble, bass, loudness and 3D audio options can be adjusted by using the remote control - which has also been designed to look identical to the Wii controller. Another nice touch, albeit a tad annoying when you get them mixed up.