Wii 2.1 sound system
Nothing wee about this sound system
It's a damn shame you can't play DVDs through the Wii, as the sound quality on these speakers really is very good. You could use a cable with stereo connections at one end and a Scart connector on the other, and run your Sky box through the speakers, for example. You'd have to swap the plugs around every time you wanted to play on the Wii, of course.
The sound was certainly superior than the PS3 equivalent, the Logic3 SoundStation3 PS3 speakers - all for the same price.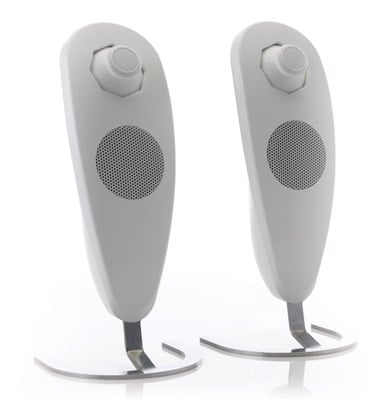 The satellite speakers take up very little space... and look oh-so-cool
Unlike the Logic3 PS3 speakers, you don't need to adjust any of the sound audio output settings on the console, and these Wii speakers don't rely on pre-determined EQ settings, such as Movie, Game or Music.
The 3D option didn't make a great deal of difference, but truth be told, we really didn't need to make very many - actually, any - adjustments to get the best audio quality. We ended up playing Wii Sports until about 6am, and on a school night, just because of the sound-created sensation that we were actually in a bowling alley with the Vince Guaraldi-style music playing in the background. Or when the crowd went wild with the hole in one on the sixth. That only happened once, though.
As soon as the system was connected, it seemed to breathe new life into both the TV and the console. The bass hummed beautifully without any sign whatsoever of overload. Just to confirm this wasn't just some sort of fluke, we fired up The Legend of Zelda and the quality was the same - faultless, quite frankly.
Verdict
If you own a Wii, you absolutely want one of these sets. For this price, quality this high is very rare. Not only does the system look stylish but it's compact and the sound is superb. Based on how much extra Wii fun we got out of these speakers, the PS3 and Xbox are going to start gathering a bit of dust.

Wii 2.1 sound system
Seldom have we seen such a simple, stylish, affordable and effective console accessory as this