Wii Remote raised to defuse explosive situations
Robot loves WiiMote
The number of additional uses for the Wii console and its components are exploding – literally. Bomb disposal boffins have equipped warzone robots with Wii Remotes so they can be controlled more accurately.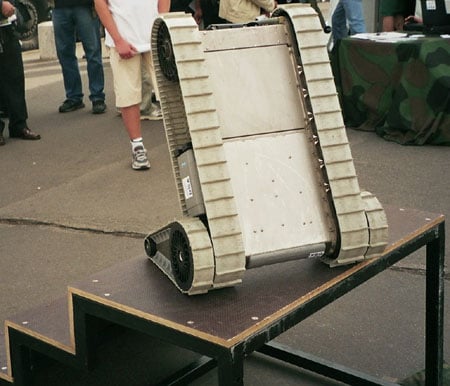 iRobot's PackBot: showing off to the crowd
According to a report by New Scientist magazine, engineers at the US Department of Energy have already modified a specialist robot to be controlled by a Wii Remote.
Before soldiers storm into a risky situation, the Johhny-5 clone is able to find explosives, unearth landmines and dispose of bombs – all the time under the supervision of a Wii Remote-waving soldier. The scientists chose the Nintendo console's controller because it's able to detect motion in multiple directions.
The robot hails from the PackBot clan, of which there are several variants, though most focus on bomb disposal work. There's already an estimated 500 PackBot's in service throughout Iraq and Afghanistan.
PackBots are manufactured by US firm iRobot, which hit tech headlines in 2002 when it released a robotic vacuum cleaner, dubbed Roomba.
Nintendo's yet to announce if it's developing PackBot the videogame, but anything bringing together real-life robots and the Wii is sure to be a hit.