XCOR challenges Virgin with the Lynx effect
Suborbital tourist vehicle aloft within two years
Californian aerospace outfit XCOR has thrown its hat into the space tourism ring with the announcement that its two-seat Lynx suborbital spaceship will be carrying paying customers aloft within two years.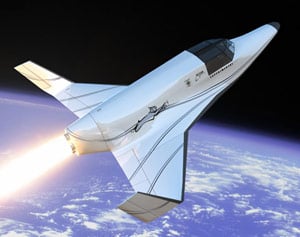 Lynx promises a 30-minute ride (flight profile here [pdf]) topping out at 200,000ft (61km) during which - in contrast to Virgin Galactic's multi-seat SpaceShipTwo - a single paying customer will sit beside the pilot.
XCOR test pilot, former pilot astronaut and Space Shuttle commander, Col Rick Searfoss, enthused: "Lynx will be the 'Greatest Ride Off Earth'. The acceleration, the weightlessness, and the view will provide you with an experience that is out of this world. And the best part of it all is that you'll ride right up front, like a co-pilot, instead of in back, like cargo."
Once operational, the 8.5 metre (27.9ft) Lynx will be able to fly serveral times a day from its base in Mojave. XCOR CEO Jeff Greason explained: "We have designed this vehicle to operate much like a commercial aircraft. Its liquid fuel engines will provide the enhanced safety, durability, reliability and maintainability that keep operating costs low.
"These engines will also minimise the impact of these flights on the environment. They are fully reusable, burn cleanly, and release fewer particulates than solid fuel or hybrid rocket motors."
The cost of an XCOR jaunt is not noted, but Greason added: "XCOR's mission is to radically lower the cost of spaceflight, because affordable access to space for everyone means far more than breathtaking views and the freedom of weightlessness. It means unlocking the material and energy resources and economic opportunities of our solar system for our children."
Quite when Virgin Galactic's SpaceShipTwo will be ready for paying customers is unclear, although testing is due to begin in June with operational flights slated for a year later. Tickets will set back wannabe space jockeys a cool $200,000.
Punters can expect to pay around the same for a jaunt on the third space tourism contender's vehicle - the EADS Astrium vessel designed to lift four passengers to a heady 100km (328,000ft).
Astrium says operations will begin "some years after 2010", according to the BBC, but estimates a "mature market" might see as many as 15,000 individuals a year coughing big bucks for a once-in-a-lifetime white-knuckle flight. ®