This article is more than 1 year old
Archos 705 Wi-Fi mobile DVR
Except it's not a DVR
Review While Apple, Samsung, Creative and the like squabble over the mass market for MP3 players, Cowon and Archos have become engaged in a fight for the premium end of the market. The latest shot in this battle is from Archos: the fifth-generation 705 Wi-Fi.
On introduction to the 705 your first thought will almost certainly be 'wow, that's big', rapidly followed by 'wow, that's heavy'. At 182 x 128 x 20mm and a weight of 630g, the 705 is a man-sized box of tissues PMP and no mistake. The limitations of portability are tacitly acknowledged by Archos who have labelled the 705 a "mobile DVR" rather than a PMP.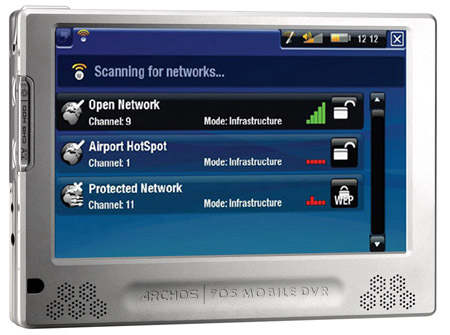 Archos 705: most controls are on the touchscreen
In the hand, the slab-sided 705 is a triumph of engineering over aesthetics. Exterior decoration is limited to the grilles covering the two speakers that sit below the screen. Tiny Philips screw heads abound. The brushed metal casing looks and feels robust while exterior controls are limited to a power on/off button and an LCD/TV switch, everything else being controlled through the touchscreen.
On the bottom of the unit are four ports: a mini USB to connect to your PC, a micro USB to connect to an external USB device, and two connectors that link to the optional DVR Station Gen 5. Around the back is a handy metal kickstand that props the 705 up for desktop viewing.
Let's start with the screen. At seven inches size is not an issue, nor is resolution which comes in at an Eee PC-size 800 x 480. Archos states the display will support video resolutions "up to DVD", which we take to mean 720 x 576 PAL - decent enough, if shy of the 1280 x 720 H that the Cowon A3 - reviewed here can manage.
Technical specification aside, the screen is a fine bit of engineering, being both bright and colourful. The matte finish does take away that last degree of crispness, but has the benefit of not showcasing too much the inevitable fingerprints you get with a touchscreen UI.