This article is more than 1 year old
Archos 705 Wi-Fi mobile DVR
Except it's not a DVR
For a real world test of video playback we dumped a 700MB, MPEG 4 DivX movie with a resolution of 592 x 256 onto the 705, plugged a pair of Sennheiser HD25 SP-II earphones into the 3.5mm jack, and kicked back with a beer. The file transferred in a pretty swift one minute 50 seconds, and played with no hesitation. Both video and audio playback quality proved to be nothing short of excellent. You really can do so some serious movie watching on this thing.
As a music player, the 705 is equally up to the job, providing a sound every bit in keeping with its price tag, so long as you don't use the rather low-rent bundled earphones. We were, however, a little disappointed to find no Ogg or FLAC file support. In fact, out of the box the 705 will only play MP3, WMA and WAV audio files, and MPEG 4 and WMV video.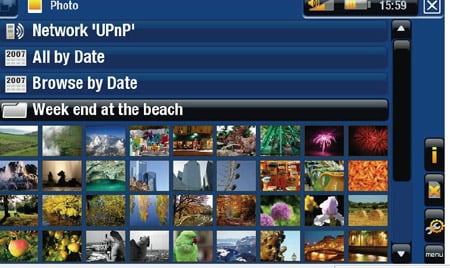 The slide show feature makes the 705 a fine digital picture frame
Purchase the Cinema plug-in for the princely sum of £14.95 and you can add MPEG 2 video and AC3 audio to the list of files supported. Cough up the same for the Video Podcast plug-in and you get H.264 video and AAC audio support. This is a bit steep when Cowon, for one, is loading its players with support for every video and audio file format under the sun as standard.
Still image reproduction - Jpeg, PNG and BMP files only - is excellent, both in thumbnail and full-screen format. The instant slide-show feature and rear kickstand makes the 705 a fine impromptu digital picture frame.
Archos' parsimony reaches new heights should you wish to take advantage of the 705's built in 802.11g Wi-Fi and surf the net - you'll need to shell out a further £20 for the optional video browser plug in. This, frankly, strikes us as taking the micturation when the 705 itself is a minimum £330 purchase. Our review copy came with the browser pre-loaded, but we couldn't ascertain if this was a one-off or a feature Joe Public can expect to find.
The browser itself is badged as "Opera-powered", and while it does a decent enough job of basic web navigation, and supports tabs, it's nothing out of the ordinary. It compares poorly with the Mozilla-developed browser Nokia have installed in the N810 tablet - reviewed here.