This article is more than 1 year old
Archos 705 Wi-Fi mobile DVR
Except it's not a DVR
Nine free Opera widgets can be downloaded for the 705, and while one is an RSS reader it only has six built-in feeds and lacks the capacity to add more - though one feed is The Register, so we shouldn't perhaps complain too loudly. Other widgets available are a calender, a weather forecast application, a notepad, calculator, unit converter, currency converter, data vault and address book.
There's no streaming-media player, so internet radio stations are out. We also searched in vain for any sort of instant messaging support. We reckon these are both pretty major omissions in a wireless device that Archos needs to address pronto.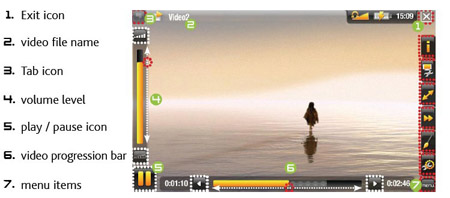 Navigation around the 705 is pretty straightforward
Navigation around the 705 is pretty straightforward. Fire it up and a home screen appears with eight large icons that take you to your video, music, photographs, files, the Archos content portal, web browser, recorder, and widgets and games. Just tap each icon twice to access the relevant sub-menu.
In video mode a tap on the bottom of the screen brings up the pause/start key and a play bar, which you drag across the screen to fast forward or rewind. A left-screen tap will bring up a volume bar, usable with the same drag motion, while a right-screen tap brings up the main menu bar. The icons are not that intuitive, so checking the manual to see what does what will be time well spent. Tap the top of the screen and all three UI areas show up along with the system status bar. As a UI it all works well enough, but frankly a hard volume control of some type would be a welcome addition.
One feature of the touchscreen that does start to irk after a while is that everything needs to be touched twice. If you open a list of albums by a particular artist you have to touch the album you want once to highlight it, then again to open it. To select a track you have tap once to highlight, twice to play. All a bit silly.
Add to this the fact that the screen surface has a fair amount of give in it, so that you push rather than tap, and rapid navigation can become a bit of a struggle. Not such a problem if media playback is your main intent, but something of a limitation if you want your 705 to be part PMP and part internet tablet.