This article is more than 1 year old
Archos 705 Wi-Fi mobile DVR
Except it's not a DVR
Archos bundle with the 705 a dinky little 54-key remote control complete with a Qwerty keyboard, a tacit acknowledgment that the touchscreen UI can be a little lax as an emailing and URL-entry tool. The 705 also comes with a rather cheap plastic stylus, although with nowhere to house it inside the player it's likely to get lost early on.
Unusually for a device in the premium end of the market, the 705 doesn't come with any media management software, so loading content is simply a case of drag and drop. However, the player is compatible with Windows, Mac and Linux.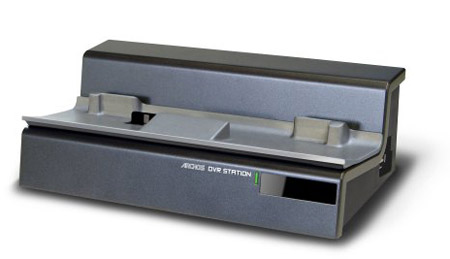 To connect to a TV you'll need the DVR Station 5
With such a large screen and a hard drive to power, battery life could have been an issue, but Archos has fitted the 705 with a big old removable 3.7V power pack that gave us 19 hours of continuous music playback and five of video. Both numbers are just a little shy of Archos' claims of 22 and 5.5, respectively, but are pretty impressive nonetheless.
To connect to a TV you need to cough up another £70 for the DVR Station 5, which changes the 705 into a full-fledged DVR that can be used to record direct from your TV and play back content the same way. Archos tells us the station will allow you to stream media to your TV from your PC as a UPnP device, but since it didn't send us one we couldn't test this.
And why should we? The 705 is clearly branded a "mobile DVR", yet without forking out for an optional extra, the machine is most definitely not a DVR. How many consumers are going to walk out of a shop with one of these PMPs, having seen the label on the front of the unit, only to find that it doesn't do what it says on the tin?
Verdict
There is no doubting the 705's competency. As a media player it is quite superb - size, weight and slightly clumsy touchscreen UI notwithstanding. As a web browsing device, though, it is less successful, and the inability to stream internet radio or access your favourite RSS feeds are major drawbacks.
But Archos deserves strong criticism for labelling the device as a DVR when there's no DVR functionality out of the box. You can't even connect the 705 to a TV without buying the £70 optional add-on. Badly done, Archos.

Archos 705 Wi-Fi mobile DVR
Very capable but also very big and very heavy - and with way too many 'extra cost' features for our taste.
Price:
£330 (80GB), £380 (160GB) RRP