Ubuntu chief picks panda over penguin, while Microsoft rolls Novell
Wimpy open sourcers worked by Delta pilots
---
Radio Reg If you're ever staying at the HoJo in Victorville, California, be sure to hit up the gay bar next door and down a Chelada with this guy. He's a hoot, and I'm pretty sure he'd be all about open source if he cared as much about software as he does for clam-fused tomato juice and Bud Light.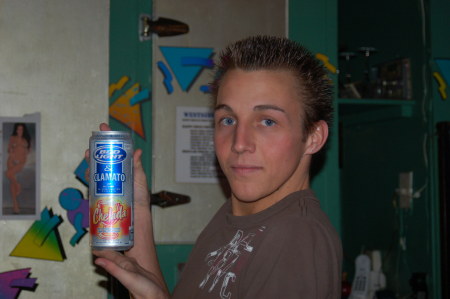 Weird Victorville drink called Chelada. Beer and Clamato - Sick.
Chelada stood as one of the many topics covered during Episode 14 of Open Season. Mulesource's Dave Rosenberg picked up the slack in the absence of Matt Asay, who left the violence of Utah for Disneyland. Redmond's Michael Coté also popped on the horn again to provide the show with some shred of respectability.
Oh, the topics, right.
Well, we evaluated Red Hat CEO Jim Whitehurst's performance at the OSBC conference. Then, it was on to Mark Shuttleworth's depressing and desperate addiction to panda scrotum and Dave's abuse of former Linux Magazine editor in chief and now Novell openSuse manager Joe Brockmeier.
Also, open source companies can apparently milk the hell out of large businesses during a down economy, while Hadoop remains exciting, and Microsoft gives away Novell coupons.
The faithful can grab the Ogg Vorbis file here, those plagued by low-bandwidth can catch a smaller, crappier quality show here and those of you with macho-sized bandwidth can get the big daddy here.
You can subscribe to the show on iTunes here or grab the Arse feed here.
Show notes
Red Hat's new CEO made friends in the open source world by telling us that software geeks are pussies when compared to Delta airline pilots. Note to geeks: unionize. Get tough.
Signaling total Fail, Dave was tweeted by Sarahcuda. You can have the same experience in the Tenderloin for $2.95.
Here you can see Mark Shuttleworth with a Russian red panda stretched across his head.
Stephen O'Bloggy explores the Microsoft question.
Handsome Dave on Yahoo!'s Tech Ticker where he pimps Alfresco. What a surprise.
Thanks for your ears. ®