This article is more than 1 year old
Need a new duster? Avoid Woolies
Spring cleaning filth and fury shakes Middle England
NSFW If you're in the market for a new duster to do a bit of light spring cleaning we'd advise you to nip out to your nearest hardware shop rather than pop down to the UK ecommerce tentacle of retail monolith Woolworths, where a search query for this most innocent of household items returns a nasty shock for innocent inhabitants of Middle England: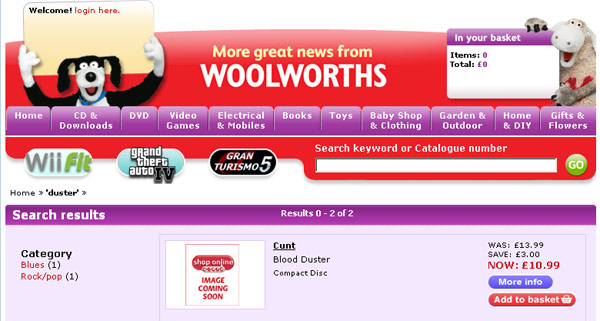 By the Lord Harry and Saint George. Mercifully, Woolies doesn't feature the cover or track listing of this 2001 album, but we still reckon there'll be a few duster-hunters on tablets from the doctor after accidental exposure to beaver.
As ever, we have made our dossier available to the relevant authorities. ®
Bootnote
Thanks to Jonathan Gutteridge for the tip-off.