A stylus wouldn't be Register Hardware's weapon of choice for the upcoming videogame Grand Theft Auto IV. But as the title's rumoured to be coming to Nintendo's DS Lite, this could become a reality.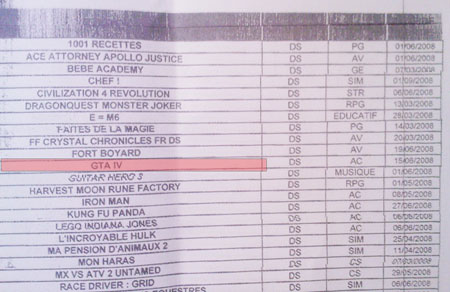 Will GTA IV hit the DS Lite? Image courtesy of Game-Class
Online gaming publication Game-Class.com has published details from a retailer document claiming GTAIV will be launched as a handheld title later this year.
The game will be released in the UK for the PS3 and Xbox 360 on the 29 April. However, GTA IV isn't the sort of game we would usually expect to transfer over to the DS, given that it demands some fierce button pushing to keep the police and rival gangs at bay.
Register Hardware's remaining sceptical for the time being, given how perilously close it is to 1 April.
However, it's been officially confirmed that Rockstar, GTA IV's developer, and online retailer Amazon have teamed up to enable music downloads from the game. The service, dubbed ZiT, allows gamers to buy real copies of the tracks they hear in the game over the title's mobile phone interface.
Provided you're registered with Rockstar's online social club, you'll be able to tag a tune at any point during the game. The character's virtual mobile phone then sends the song's information to your social club account, from where the track can be downloaded for less than £1 (€1.50/$2).