Review You've always felt you haven't got the full gaming experience, right? You wanna wear the armour, carry the weaponry... that kind of thing. The 3rd Space FPS sensory gaming vest might be of interest then.
The 3rd Space FPS Vest, first seen last year, looks somewhat ironically like a stab-proof jacket, and is hooked up to an air compressor and power unit. The jacket contains eight so-called "active zones" that fire compressed air whenever a player gets, say, shot in the chest, supposedly helping to recreate the feeling for gamers in the real world.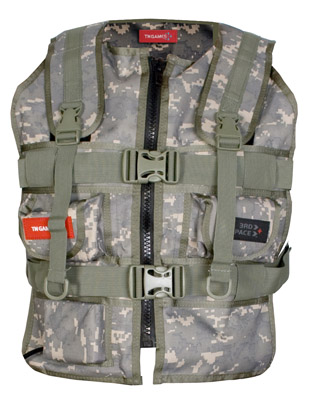 "We're marines and there's nothing to worry about..."
Maker TN Games said its jacket works with Call of Duty II and its own gaming title - 3rd Space: Incursion - while patches for Quake, versions three and four, and Doom 3 are available too. Unfortunately, Call of Duty II is a little dated now, and the offering from 3rd Space, Incursion, is pretty typical stuff. It's based on a space station of some sort with weird looking lifeforms hellbent on maiming you in multitude of gruesome ways that demonstrate what the game vest can do.
But here's the catch: this puppy only works with a PC, which is going to substantially narrow the user group. Microsoft Windows XP or higher is the minimum requirement along with 1Ghz minimum CPU speed, Radeon 9600 video card or better, or GeForce FX 5200 or better.
The air compressor itself is smaller than you might imagine - it's no bigger than a household-sized red brick, without the weight. A USB cable connects the vest to the PC and an air hose connects the compressor to the vest. No drivers need to be installed.