This article is more than 1 year old
Jabra displays Bluetooth headset screen
Watch and talk
Jabra has launched a Bluetooth headset featuring an integrated display, allowing users to visually check the device's battery life and call information.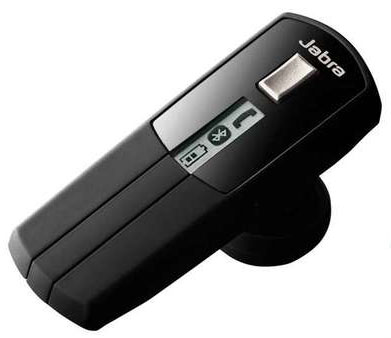 Jabra's BT4010 has a tiny screen for displaying call information
The BT4010 isn't the first Bluetooth headset to feature an integrated display; Sony Ericsson's HBH-660 Akono has a tiny screen too. But Jabra claims the BT4010 is the only headset capable of simultaneously displaying battery life alongside the connection and call status – thanks to three simple icons.
Checking, say, call status whilst using the headset to make a call will be tricky though. You could try arranging several mirrors alongside your head, to give you a quick snap of the BT4010's tiny screen.
The headset, which works over Bluetooth 2.0 with Enhanced Data Rate, provides up to six hours of talk time and 150 hours of standby life. Users can recharge the gadget through the built-in Micro USB port. Several designs of earhook are thrown in too.
Jabra's BT4010 will be available in the US later this year, with a price tag of $60 (£30/€45). A European release date or price hasn't been set yet.