Canon Digital Ixus 960 IS compact camera
Plenty of pixels, but passable performance
---
Review The latest offering from Canon, the Digital Ixus 960 IS offers no less than 12.1 megapixel performance. But, as we shall see, offering more pixels means paying a price when it comes to certain aspects of performance.
We have to say, the Ixus 960 is one of the nicest cameras we've seen, with a titanium body and sleek finish – you just want to caress it gently in your hands. It's also nicely balanced and most controls are intelligently set out. But on the other hand, it's not the most compact camera around, measuring 95.9 x 59.9 x 27.6mm and weighing 165 grams without battery.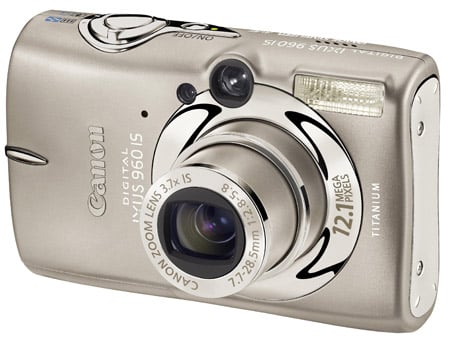 Ixus 960: one of the nicest cameras we've seen
Let's put it this way: the Ixus 960 is certainly pocket-sized, but it's more like walking around with 20 pound coins in your pocket.
The Ixus 960 comes with a fair sprinkling of accessories including battery pack, charger, and connecting leads, but once again Canon has skimped when it comes to the supplied SD memory card – you get a measly 32MB card, which can hold just five images at the highest resolution.
Canon seems to accept that it has been less than generous, because the instruction books apologetically states: "You may not be able to achieve the full performance of this camera with the included memory card." Duh.
Moving on, the Ixus 960 is very similar in design to the Ixus 860. At the front is the zoom lens and flash, while on top are a small power button and large shutter button. On the left side is a small cover for the AV out/mini USB out sockets, and this was a bit of a shock, as the cover is a plasticky affair that doesn't feel very robust.