This article is more than 1 year old
Women overtaking men in tech abuse
A woman, in an IT department?
Think of a tech nerd and you'll probably conjure up the image of a middle-aged man with Ethernet cables draped around his neck. However, women are becoming increasingly tech-savvy, according to a study of female geeks.
The study questioned just over 2000 US-based 'tech nerds' about their use of consumer technology. The results revealed that 70 per cent of women play PC-based videogames each month, compared to 69 per cent of men.
Unsurprisingly, the number of women aged between 12 and 24 actively playing videogames was much higher than the percentage of women aged over 40 doing so.
Women also beat men in the online TV stakes too, with 15 per cent of the fairer sex admitting that they "stream TV shows from network TV sites," compared to just 11 per cent of men. But women also like to record telly too and, on average, women use a DVR 9.3 times each week, whilst men only use a one about 8.3 times.
However, there's bound to be a sharp divide over which sex records what show.
Transferring images from a digital camera to a PC is popular amongst women, with 24 per cent stating that compact cameras are their favourite gadget. However, men are more likely than women to transfer music from a PC to a portable player, such as an iPod.
Men still rule the tech roost in some areas though. Console-based gaming was preferred by 50 per cent of men, compared to just 38 per cent of women. The figures revealed that women prefer handheld units, such as the DS Lite.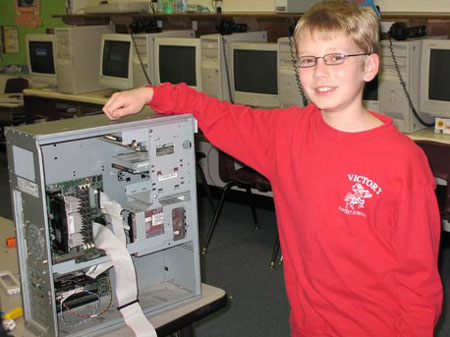 11-year-old Jon Penn manages his school's network of 60 PCs. Image courtesy of Networkworld
An 11-year-old boy from the US is keeping the perception of traditional male tech geeks alive though, by managing his school's IT department.
Jon Penn began running the network after his school's librarian, and also Jon's mother, had the role of computer support dumped onto her. The boy, a self styled computer whiz, has already singlehandedly installed a gateway security appliance and upgraded the network's 60 PCs to Windows 2000.
Perhaps Jon's work is all just a ruse to attract the attention of any girl geek classmates though…