This article is more than 1 year old
Oregon Craigslist looting was burglary cover-up
Couple cuffed for 'sinister' hoax
The fake Craigslist ads which provoked a stampede of looters to strip an Oregon man's home were posted by two thieves attempting to cover their tracks, the Seattle Post-Intelligencer reports.
Robert Salisbury of Jacksonville returned home on Saturday, 22 March, to find about 30 people rummaging through his barn and front porch in the belief that he had been "forced to leave the area suddenly and his belongings, including a horse, were free for the taking".
When Salisbury protested, he was shown printouts of the offending Craigslist listing as justification for the outrage, and later recalled: "They honestly thought that because it appeared on the internet it was true. It boggles the mind."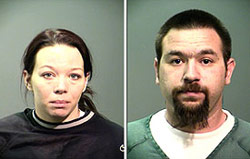 Police intervention subsequently recovered some of the missing goods, and further investigation traced the ads to files on a computer belonging to Medford couple Amber Herbert, 28, and Brandon Herbert, 29 (pictured).
While cops initially suspected the whole thing had been a simple hoax, they discovered that the Herberts "had stolen goods from a garage at Salisbury's place a few days before the Craigslist posting and sold the saddles over the internet".
Jackson County Sheriff's Detective Sgt Colin Fagan, said: "Other Craigslist hoaxes we've seen were malicious, but this was not the revenge-type thing we were expecting. But it was pretty sinister."
The Herberts have been booked on "burglary, theft and computer crime charges". Salisbury is still missing property worth thousands of dollars, the Seattle Post-Intelligencer notes. ®