Intel enrols second-gen Classmate PC
OLPC rival revamped
IDF Intel today introduced a new version of its Classmate PC education-oriented sub-laptop. Dubbed the second-generation CPC, the new model tweaks the specs of the original and features a bigger display.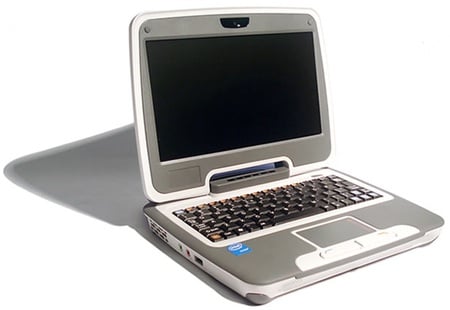 Intel's second-generation Classmate PC: bigger screen
Like its predecessor, the 2G CPC is based on a 900MHz ultra-low voltage Celeron M processor. It has up to 512MB of DDR 2 memory and uses Intel's 915GMS chipset. The old model has 1-2GB of Flash storage - the new version adds a 4GB SSD option and the choice to use a 30GB 1.8in HDD instead.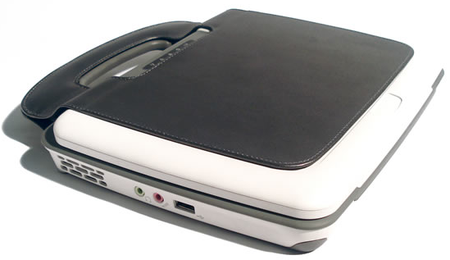 Portable
Once again, a 7in, 800 x 480 display is part of the spec, but the 2G model can also be fitted with a 9in panel of the same resolution. It can also have a 0.3-megapixel webcam.
The webcam was added to the spec sheet, Intel said, because kids using the original model expressed a desire for more interactivity and online collaboration features. To that end, the 2G CPC also incorporates 802.11s mesh ad-hoc networking software for linking machines over an 802.11b/g WLAN.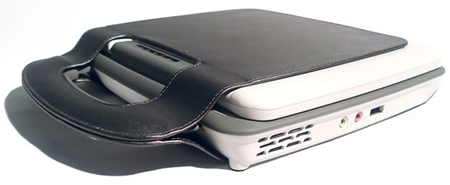 Pick up and play
Usage research also showed the need to introduce an accessible battery, and that's a modification that's been made in the 2G CPC. Intel also said the spec now includes both four-cell and six-cell power packs.
Intel defines the CPC spec, but leaves manufacture and final details to system suppliers, who work with its production partner ECS. The CPC's designed for education in the developing world, but it's also available to ordinary consumers there and in the developed world.
Related Review
The OLPC XO laptop