This article is more than 1 year old
HP launches Linux-loaded Eee PC rival
VIA powered
Updated HP has launched its attempt to grab a little or a lot of the Asus Eee PC's success, two months after the sub-notebook slipped out onto the web. Pitched primarily at schools, the 2133 Mini-Note PC sports a 'choice' of 7in or 9in display, and is available with SuSE Linux pre-installed.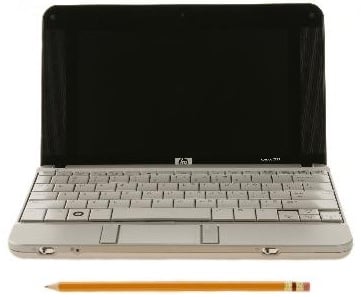 HP's 2133 Mini-Note: 7in or 9in screen?
We say the 2133 has a choice of screens, but in reality HP is claiming two different sizes depending where on its website you look. The product page's spec sheet says 6.9in; the press release says 8.9in.
Update HP has made up its mind - the 2133 has a 8.9in display.
Both sources are agreed on the fact that the 2133 is powered by VIA's C7-M processor, clocked at up to 1.6GHz - a CPU we found a tad noisy when tried in another sub-notebook. The unit also has a VIA chipset - the graphics come courtesy of the Taiwanese chip maker's integrated Chrome 9 GPU.
There's up to 2GB of 667MHz DDR 2 memory on board, and storage options include 120GB or 160GB, 5400rpm or 7200rpm hard drives, or 5GB of solid-state storage.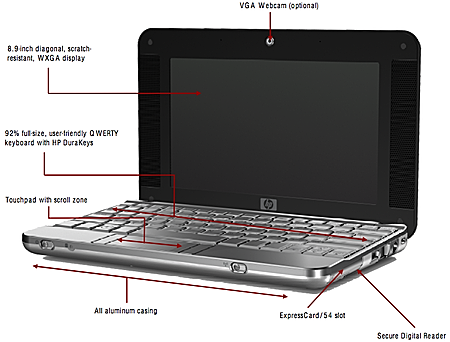 Wi-Fi of the 802.11b/g variety comes as standard, but Bluetooth 2.0 is optional. Users also get a Gigabit Ethernet port, an SD memory card slot, ExpressCard 54 bay, two USB ports, analogue audio connectors and a VGA output.
HP claimed the 2133 has a "92 per cent full-size" keyboard, which defines the sub-notebook's dimensions: 256 x 165 x 33mm. That's the front thickness - HP didn't say how much bigger the 2133 gets at the back. The unit weighs 1.27kg, rather more than the Eee but fractionally less than the MacBook Air.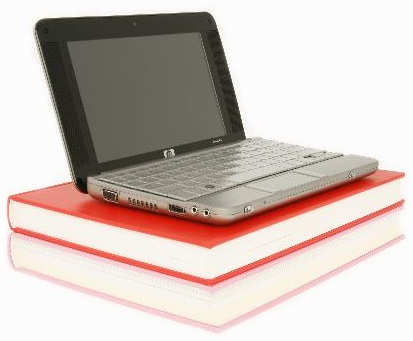 Brought to book
The standard battery is just a three-cell job, so it'll be interesting to see how much runtime the 2133 delivers. There's an optional six-cell power pack too.
HP will want $500 (£250/€318) for the 2133 when it goes on sale in the US later this month. It's price from £299 over here. While it's being touted as an education machine, the 2133 will also be pre-configurable with Windows Vista Business, Windows Vista Home and Windows XP Pro, suggesting HP plans to offer it to consumers and business buyers too.
Related Reviews
Asus Eee PC
Toshiba Portégé R500
Maxdata Belinea s.book