Pioneer has just discovered that satnavs can do media playback too. This week it highlighted its Navgate AVIC-F500BT as the "first hybrid navigation system that combines the power of an in-dash device with the convenience of a portable system".
Strip away the hyperbole and you're looking at a unit with a 5.8in touchscreen display, mappage for 29 countries pre-installed on the device's 2GB of Flash storage, built-in TMC traffic alerts, Bluetooth for phone connectivity, and ports for hooking up iPods and USB devices.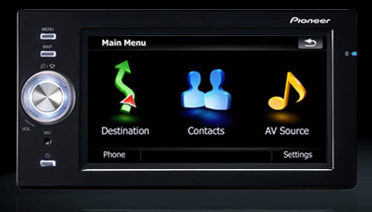 Pioneer's Navgate F500BT: satnav meets hi-fi
Oh, and it'll play music and videos stored on SD cards too.
Pioneer proudly proclaimed the F500BT comes with a 4x50 MOSFET amplifier intended to feed up to four car speakers directly. The satnav's able to operate as a music player while it's also tracking your journey by GPS and providing turn-by-turn guidance, augmented with on-screen 3D landmark graphics.
The F500BT is due to go on sale later this spring through Pioneer's network of dealers and installers. There's no word yet on pricing.