This article is more than 1 year old
Sun's UltraSPARC T2+ servers ship full of Niagara Viagra
128 threads make data centers, kittens happy
Sun Microsystems is today officially debuting its two new "massively threaded" servers based on the UltraSPARC T2+ processor.
The SPARC servers, part of Sun and Fujitsu's partnership, were first revealed in gory detail by El Reg early last month.
The major advancement in Sun's new CMT SPARC Enterprise T5140 and T5240 servers is that both systems support two processors — whereas previous offerings topped out at a single socket.
Each processor - part of the "Niagara" line - is equipped with up to eight cores and 64 threads, which is par with the chip's predecessors. But with a fresh ability to double-up, a single machine is able to process 128 instructional threads at the same time. Sun heralds the chip consolidation as leading to better performance per watt and space efficiency.
The T5140 is available with four-, six-, and eight-core versions of the 1.2GHz UltraSPARC T2+ chip. The 1U system's memory support ranges from 8GB to 64GB, and the box comes with a pair of 146GB disks. Prices begin at $15,000 and swing up to $40,000 for a pair of the eight-core chips.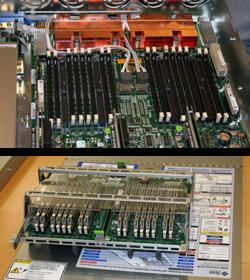 Sun uses a mezzanine to cram 128GB RAM
into the 2U T5420 server
The T5240 comes in six-, and eight-core versions. The 2U box has support for 8GB to 128GB memory, and also ships with the standard 146GB disks. Prices begin at $18,000 for the 8GB model.
The company remains as the only major server vendor to use this type multi-core attack in the market.
"The big change for us is when we came to the realization that we could take processors in a different direction with a high thread count," said John Fowler, Sun's executive veep of systems at a press briefing. "We decided to take all our design teams, and instead of cranking the clock, we'd go multi-thread and multi-core."
Sun and Fujitsu issued some benchmarks for the systems, claiming the T5240 server with Solaris OS 10 could support 65,000 Lotus Notes users. By all accounts, that's a lot of noteage.
Sun is also expected to roll out a four-socket T5400 (Botaka) system in a not-too-distant future. ®