3D TV debuts in Japan
Another excuse to stay in
---
Chuck out your HD TV because 3D TV is fast becoming a reality - provided you live in Japan that is.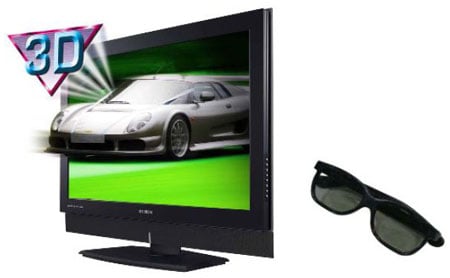 Still requires special specs
A Japanese retailer has unveiled a 46in 3D LCD TV, though it's actually manufactured by Hyundai. The set has a 1920 x 1080 resolution and generates a 3D image using stereoscopics. It creates the illusion of 3D by rapidly displaying two different images, one for the viewer's left eye, the other for the right eye.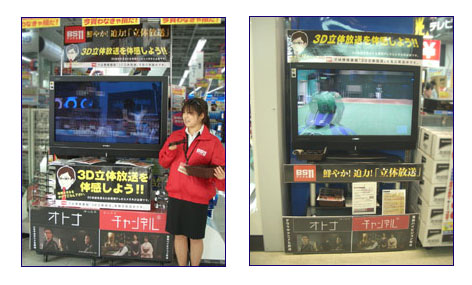 The 3D TV at work
That means viewers must wear special specs for there to be any effect. Fortunately, two pairs are thrown in, so you and the missus can enjoy 3D telly together.
The set is reliant on a special stereoscopic broadcasts, which is already up and running in Japan. Unfortunately, this means the TV can't show everything in 3D, so it's not going to make the latest ER heartthrob lean out of the screen at you.
Japanese telly buffs can pick up the 46in 3D TV, which goes under the moniker of the E465S, online for ¥498,000 (£2400/€2700/$4800). Don't hold your breath for a UK release.