This article is more than 1 year old
Designer condenses 3D mouse for laptop users
Navigate your PC with style
The SpaceNavigator may look like something that fell off from the Starship Enterprise, but it's actually a high-end notebook mouse.
Manufactured by Logitech-owned 3Dconnexion, the futuristic wired mouse is the smaller cousin of an earlier model designed for desktop-computer users. The latest model weighs 250g, around half the weight of the predecessor, and 3Dconnexion claimed the notebook model is small enough to be used comfortably on aircraft seat tables.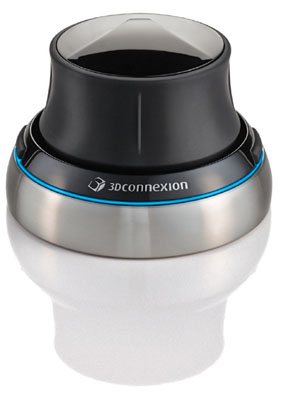 3Dconnexion's SpaceNavigator for Notebooks: beam me up
Although the desktop model only measured 55.1 x 75.9mm, 3Dconnexion has slimmed the notebook mouse down to an even more portable 45.9 x 68mm.
Both versions are aimed users of 3D software, but with the notebook-oriented model, the manufacturer has redesigned the control dial's raised top to allow, it says, for more effortless use within such applications. The laptop version still features option selection buttons on either side of the control dial.
3Dconnexion's SpaceNavigator for Notebooks is available online now for around £107 (€125/$214).