A380 passengers to enjoy 'military-style' urinals
Customer orders four space-saving bogs
---
Airbus A380 cabin component manufacturer Dasell Cabin Interiors has announced it will supply "space-saving military-style" urinals to an unnamed A380 customer, as it unveiled its "concept urinal" (pictured) at the Aircraft Interiors Expo 2008 in Hamburg.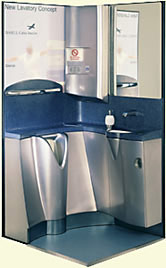 According to Flight International, Dasell is remaining tight-lipped on exactly who will take delivery of two "urinal/washroom units", but said the contract would be announced "in a couple of months".
The company's MD, Arndt Schoenemann, said: "Two units comprising four urinals makes sense on an A380. Our studies have shown that typically, around 70 per cent of economy class passengers are male so this actually improves hygienic conditions for female passengers, improves flow through and saves water. More importantly, installing them could, per unit, save the space of four seats in a typical long-range aircraft."*
Schoenemann added that the urinal concept "will also feature on Airbus Military's A400M, similar to the urinal located at the rear of the RAF's Vickers VC10s which are used to transport military personnel, cargo and troops, and the forward urinal of Lockheed-Martin C-130 Hercules". ®
Bootnote
*Yes, we know: the relentless quest to cram more cattle onto aircraft. Taking the piss? You decide...