Can the Atom help Intel's CEO meet otherworldly demands?
Otellini bullish on MIDs, bearish on Affymetrics
---
Interview Exclusive Strolling towards Intel's headquarters, I hoped my meeting with Paul Otellini would not be as awkward as the last encounter with an acting Intel CEO.
Back in 2001, Craig Barrett delivered a keynote speech at the Consumer Electronics Show in Las Vegas, which required him to emerge from a huge tub of Jello. Intel had hired its Blue Man Group chums to perform a brief show before the speech started, and they closed by revealing a massive Jello mold sitting atop a black box on stage. Then, they ripped into the Jello to reveal the head of Barrett. The executive proceeded to tear the rest of the way through the Jello, unfurl his body from the box and get on with his own show.
"The only way they got me in the box was that they told me the last living human being in the United States who wanted to buy a PC was in that box," Barrett said at the time. "I got in there and found out I was the only person."
I'm still not sure what that means, although it seemed to have something to do with the dot-com bubble bursting.
Anyway, I had ducked out of the keynote speech early since a colleague had been tasked with writing up the "event." Like any hungry, free-loading hack, I scampered away from the theater and right into Intel's secret VIP room, which had a lovely spread. I started digging into dinner, figuring no one from the company would be the wiser.
About 20 minutes passed, and the next thing I know, Barrett and his bodyguard bound into the room. Barrett still had Jello particles on his forehead, was sweaty and looking for a respite. He seemed puzzled to see me, which is understandable since this was meant to be an executives-only type of room, and I had pasta sauce dripping down my chin. Breaking the ice, I introduced myself and said, "I guess you want some alone time to relax?".
"Yeah," he said. The bodyguard directed me to the door.
The Paul Principle
The point of this story is that Barrett could get away with Jello. Like all the previous Intel CEOs, he worked off a rich engineering background, which is thought of as crucial at the company. Engineers can have blue goop falling off their face and still be taken seriously.
"We'd even question God's credentials if he became CEO," one Intel employee told me last week, emphasizing the point that Intel's culture revolves around engineering street lab cred.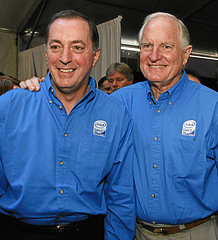 Otellini (L) and Barrett (R)
The press loves to point out that Otellini is Intel's first non-engineer CEO. He's a sales and marketing guy. Such creatures struggle to command the same level of respect at Intel - even if they abstain from Jello molds.
But the very same employee who told me that God would need to demonstrate the ability to stretch beyond his non-engineering inadequacies, said that Otellini has won over the troops. Having been trounced for two years by a resurgent AMD, Intel's best and brightest confessed to needing a kick where it counts. Otellini delivered that kick through a "painful" set of layoffs and also through a set of "decisive actions" around off-loading lagging businesses, I was told. Beyond the cutting, Otellini infused the remaining Intel employees with a sense of urgency.
This sounded like the type of polished line that a press-trained Intel employee is instructed to hand out when he finds himself trapped next to a reporter on a 10-hour flight. And maybe it was the recycled air gnawing at my brain, but I believed this employee. Or at least, I believed that he believed himself.
Just how deep Otellini's acceptance runs would seem to matter little given recent results. The company has fixed the chip delays and cancellations that plagued it just a couple of years ago and has established an obvious performance lead over a bumbling AMD. Beyond these core businesses, Intel once again looks to expand into new markets through its Atom line of processors that slot into lower-cost computers, PDAs and eventually cell phones. In addition, Otellini has pledged to deal with Intel's memory woes one way or another to make sure they are not "a drag" on the company.
The folks who follow the chip game appear in consensus that Intel has seized a massive momentum edge over its rivals and appears poised to give these new business a real run.
We probed Otellini on a number of these topics and also his thoughts on Intel's future as a nanotechnology firm and the health of the semiconductor industry moving forward as fab costs continue to rise and rise and rise.