Biologists track down elusive lungless frog
Backwards evolution in Borneo
---
Scientists from the National University of Singapore have described a rare lungless frog which appears to absorb oxygen through its skin.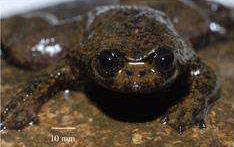 The university's team, led by evolutionary biologist David Bickford, spent two weeks scouring the remote Kalimantan region of Indonesian Borneo to find examples of Barbourula kalimantanensis, which was first identified 30 years ago.
The researchers report in Current Biology: "In August 2007, we visited Western Kalimantan but found that illegal gold mining had destroyed all suitable habitats in the vicinity. The originally cool, clear, fast-flowing rivers are now warm and turbid. Water quality around the locality is no longer suitable for the species, but we were able to re-discover two new populations upstream."
The university's website elaborates: "The frog lives in cold water which has higher oxygen content than warm water. The team surmises that the frog has a low metabolic rate and hence needs less oxygen anyway. It is also severely flat compared to other frogs and this would increase the surface area of the skin, allowing it to take in oxygen more efficiently.
"Having lungs also means being more buoyant and hence, more easily swept away by fast-flowing waters. Thus the loss of lungs as an adaptation to living in very fast-flowing streams seems to be a rational hypothesis as well."
Barbourula kalimantanensis is a strange critter indeed, and the team notes that "the evolution of lunglessness in four-limbed amphibians is exceedingly rare, and known in "only in two families of salamanders, and a single species of caecilian, a species of earthworm-like amphibian".
The scientists conclude: "The discovery of lunglessness in a secretive Bornean frog supports the idea that lungs are a malleable trait in the Amphibia, the sister group of all living tetrapods. Amphibians may be more prone to lunglessness since they readily utilize other methods for gas exchange."
Barbourula kalimantanensis is, inevitably, at risk from the destruction of its habitat. Bickford called for protection of this "evolutionary enigma" and he and his team will now move to "better understand the extinction risk of the species, to map its exact geographic range and to make a more complete assessment of potential habitats". ®