NASA gets intimate with Phobos
New HiRISE snaps of Martian moon
---
NASA's Mars Reconnaissance Orbiter has returned some rather nice snaps of Martian moon Phobos, captured by the vehicle's High Resolution Imaging Science Experiment (HiRISE):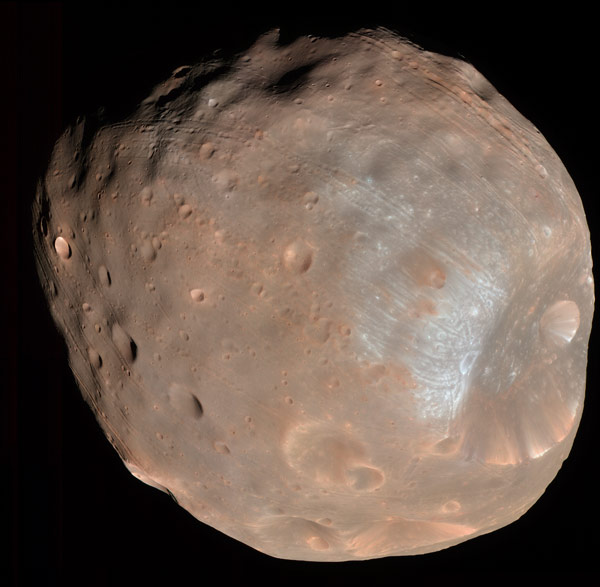 NASA explains that the above image (bigger version here) was taken "at a distance of about 6,800 kilometers (about 4,200 miles)", and is "presented in color by combining data from the camera's blue-green, red, and near-infrared channels".
The blurb continues: "The illuminated part of Phobos seen in the images is about 21 kilometers (13 miles) across. The most prominent feature in the images is the large crater Stickney in the lower right. With a diameter of 9 kilometers (5.6 miles), it is the largest feature on Phobos."
NASA's press release adds: "The new view shows landslides along the walls of Stickney and other large craters: Phobos' striking surface grooves and crater chains; and craters hidden on the moon's dark side illuminated by 'Marsshine'."
Diminutive Phobos is, the New Scientist notes, ultimately doomed since it's "spiralling towards Mars at a rate of 1.8 metres per century". In around 50 million years it will crash into Mars - if the Red Planet's gravity doesn't pull it apart first.
In 2009, Russia will send a robot to the body, which is possibly a captured asteroid, with a view to returning samples to Earth.
NASA has more new pictures of Phobos, including a 3D view, here. ®