Sanyo satnav offers anti-theft advice
I wouldn't park there, mate
---
If you don't already know that dark alleyways and tower-block estates are dangerous places to park your Porsche, then Sanyo's latest satnav system will warn you before you pull up into a joy-riding hotspot.
Two new Gorilla-brand satnavs incorporate data gathered from police pinpointing car-crime hotspots. These areas are indicated with a red dot on the satnav's map, and change colour according to the rate of crime.
The visual identification can also be accompanied by a verbal warning that your chosen parking space could see your vehicle 'borrowed' and driven around the locality at high speed, possibly in first gear.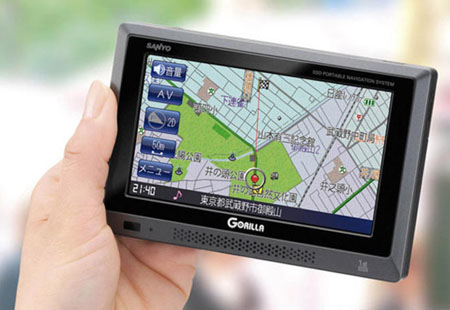 Sanyo's Gorilla satnav: don't park it there, mate
Sanyo has built the anti-theft technology into two new satnavs: the NV-SD700DT and NV-SB360DT, which extend the manufacturer's existing Gorilla satnav range.
The two models are almost identical, although the 700DT has a 7in LCD display, whereas the 360DT has a 4.5in screen. Both models have a 4GB of Flash storage, useful for recording TV picked-up by the integrated 1-seg digital TV tuner.
Both models will be available in Japan later this month, with prices starting at around ¥100,000 (£500/€630/$1000). A UK release date or price hasn't been picked up yet.