Soyuz capsule docks with ISS
Expedition 17 runs on rails
---
The Soyuz TMA-12 capsule of Expedition 17 to the ISS today docked successfully with the station at 08:57 EDT (12:57 GMT).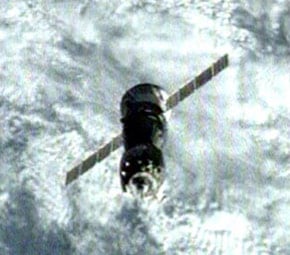 The vehicle delivered commander Sergei Alexandrovich Volkov, cosmonaut Oleg Dmitrievich Kononenko and South Korean So-yeon Yi. The latter is the first Korean in space who will, after conducting scientific experiments, return to Earth on 19 April with Expedition 16 crew members commander Peggy Whitson and flight engineer Yuri Malenchenko in their Soyuz TMA-11.
Space rookies Volkov, 35, and Kononenko, 43 are up for a longer stay, and will be relieved in autumn by two Expedition 18 crew members. They'll be joined part-way through their gig by astronaut Greg Chamitoff, who'll be aboard Discovery's STS-124 mission, slated for a 31 May lift-off.
STS-124 (summary here (pdf)) will deliver the pressurised module of Japan's Kibo laboratory and its remote manipulator system, aka RMS, consisting of "two robotic arms that support operations outside of Kibo". ®