This article is more than 1 year old
Yahoo! Flickr video play sparks online revolt
Unrest in Web 2.0 land
Yahoo! tries ever so hard to be like Google. But it's always a struggle.
Late yesterday, in an apparent attempt to battle the Google-owned YouTube, Yahoo! added video to Flickr, its ultra-popular share-your-photos-with-world+dog site, and more than 4000 Flickr-ites promptly revolted. Flickr now houses a thriving group called "NO VIDEO ON FLICKR!!!".
"I love Flickr, and I think it should stay the same way it has always been. It should just be for Photos!" reads the group description. "We don't need another YouTube! I have nothing against YouTube. I just don't want to see all the $*#% that on there to wind up on here!"
So far, more than 4,000 photo-loving souls have joined the group, and more than 1,000 have signed an online petition opposing Yahoo!'s announcement. "We the undersigned members of Flickr, free and pro, agree that video has no place on Flickr," the petition reads. "Other sites on the web accept video already, but do not accept photos. We all joined Flickr because of it's dedication to photography and photographers, and we want Flickr to remain true to this dedication. It is our request that this feature and addition to Flickr be removed."
And all are encouraged to use a graphic that looks like this: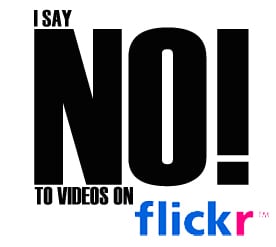 A logo for people who don't like video on Flickr
If you ask us, this is proof that the Web 2.0 crowd takes Web 2.0 far too seriously. But it's also yet another indication that Yahoo! is perpetually two steps behind its biggest rival/new partner. Yahoo!'s even behind when it comes to Reg reader curiosity. If this was a Google story, far more people would have would have clicked on it. ®