Billy Bragg: Why should songwriters starve so others get rich?
Singing for the VC Supper
---
Interview Why should songwriters starve so that the Web 2.0 kids and tech VCs get rich? Billy Bragg asked the question recently, and the downloaders and VCs quickly shot back - it's because you should be grateful that we're here!
"Recorded music is nothing but marketing material to drive awareness of an artist," fumed Michael Arrington, who Nick Carr has described as the "Madam of the Web 2.0 brothel".
Arrington goes further - he believes creatives should pay Web 2.0 sites for the privilege. "Websites that bring that music to listeners are doing artists a favour. In fact, they're doing them a favour that they should (and will) be paid for."
Naturally, we were itching to catch up with Bragg. He'd sparked the debate with "The Royalty Scam", an op-ed piece for the New York Times following Bebo's acquisition by AOL in March. But this wasn't his first tangle with the social networks. In 2006, Billy pressured MySpace into revising its T&Cs - so that you didn't sign over your rights to them forever.
He famously has little time for the music biz, and as you'd expect from someone who responded to "Home Taping Is Killing Music" by putting "Capitalism Is Killing Music" on an LP sleeve, we got an amazingly frank conversation. [bio]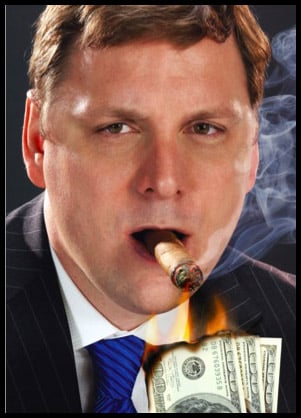 Some Silicon Valley guy: wants creators to pay him, so he can get even richer
Here it is in three parts, playable from your browser (over the page).
First a few highlights.
Bragg despairs that when downloaders sock it to the "Man", they're simply making The Man stronger - and creators weaker:
"It's not a matter of everybody making millions, it's a matter of using the internet to help them make a living. To be in a position of making a living from something they've always dreamed of doing."
"Which is, to express themselves through some sort of creative art and not be ripped off. As someone who's been able to do that for 25 years without selling out Wembley Stadium, or selling one million records - I would like to see more and more people able to do that. But they do need to have a number of revenue streams. The internet has the potential to do that without forming the gatekeepers the old companies used to do."
If the recording right disappears, he predicts, "we'll be spoonfed corporate stars that are designed to appeal to a mass audience. Someone who is a bit quirky - and by quirky, I mean a Radiohead - will never get out of Oxford."
On downloading, he finds a weird collusion of interests.
"Big Business, and the Start-Ups, and the Punters are all looking the other way, pretending. 'We can download it for free now because we can.' Well, yeah. I can bust in your house now while you're at work and nick all your stuff. But we're looking at the wrong end of the process, by focussing constantly on the user."
"It's up to the artists to step forward and say - the record industry sucks a big one. And we have been complicit with that. And we can't go back to the £15.99 CD. But we want to make a living doing this - help us to convince big business to cut us in."
But don't keep clobbering the end-user:
"I never bought that Home Taping Is Killing Music shit in the 1980s that the record companies tried to lay on us. In fact I printed on the front of my fourth album that Capitalism is Killing Music. And that's what's happening now. The powerful start-ups are blithely following the consumers argument that they don't have to pay."
"When they download free music, the average punter is really thinking that they don't want to give money to a multinational corp anymore?"
"If you can put an artist into that frame - if someone writes a song you can't live without, you're gonna want that people to do more of that. They're going to go back to that person, and go - 'I want them to do that to me again!'"
"Without financial support artists won't be able to do that. We do need to educate our audiences about that but we need to do that at the business end, not the end.
Kill the recording copyright, he predicts, and then even with the communication power of the internet, artists won't get the breaks their talent deserves.
"We rely on recorded music to spread the word. MySpace didn't build itself on live concerts, did it? Bebo didn't sell a community of people who are going to live gigs. Live gigs is part of what we do. To me it's very important."
"But a) not everybody can do it, and b) without recordings to go ahead of you, and spread the word, you end up never getting to that stage that all of us crave - where we give up our fucking day jobs that we fucking hate.
"And by cutting the legs off from the next generation of musicians, you are condemning them to never really give up their day job. What will happen is that the music that will be wildly popular will be the stuff that is coming from the corporations. It will be Hannah Montana. Which I can assure you was focus-grouped to death."
And anything quirky won't get out of its home town.
So why are the "Freetards" so adamant creators have to give up their rights? Ah, see the short Part Three for a fun discussion on that.
Now for the audio. The first two clips are around 20 minutes apiece, and the third - where we try and delve into the Origins of Freetardia - is a short and sweet couple of minutes.
Enjoy.