This article is more than 1 year old
Google data centers snub Africa, Oz, and anything near Wyoming
Or do they?
A Swedish web-site monitoring company has published a worldwide map of Google's data centers. And people love looking at it.
Today, as reported by just about every tech-happy news source on the web, the official Pingdom blog got all graphical with a new Google Data Center FAQ from Data Center Knowledge. Pingdom's Map of All Google Data Center Locations looks like this:
Google's Worldwide Data Centers?
Pingdom also zoomed in on the US: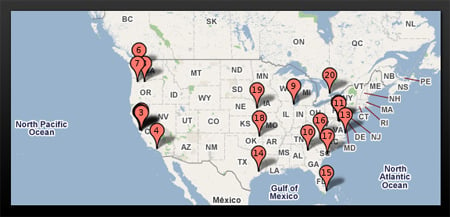 Google ignores Wyoming
And Europe: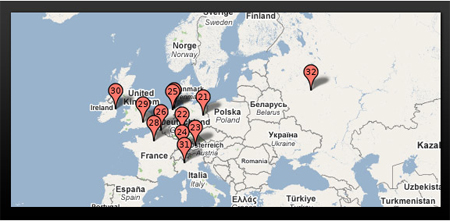 Europe - with pink flags
These maps show 36 data centers across the globe - though three (in Goose Creek, South Carolina; Pryor, Oklahoma; and Council Bluffs, Iowa) are still under construction. Recent reports indicate Google is also considering data centers in Taiwan, Malaysia, Lithuania, and Blythewood, South Carolina.
Which makes you wonder about Australia. We understand the white space running down the American Rocky Mountain timezone - and the data center-gap in Africa. But you'd think the world's largest ad broker would have parachuted a data center into The Land of Oz ages ago - if only for reasons of speed.
But maybe they have. The FAQ from Data Center Knowledge is largely speculative. Google isn't exactly open about these things. ®