Apple MacBook Air Early 2008
Style over substance - and thank God too
---
Review Apple's MacBook Air has polarised opinion, not just between the company's fans and everyone else, but even within the Mac community itself. It's expensive, it's arguably underpowered and certainly has very limited expansion opportunities.
On the other hand, it's ridiculously thin and is a truly gorgeous-looking object. We were sceptical about the Air when it was announced, back in January. But now it's available there was nothing for it: we had to try it out ourselves.
There's no denying the Air's beauty, even if aesthetics don't matter to you. Closed, the laptop's lid and base are gracefully curved, a trick that accentuates its incredible thinness, making it stand out even alongside Apple's still-pretty-thin MacBook Pro.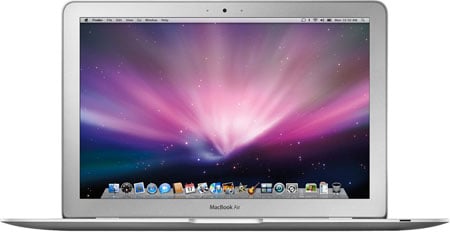 Apple's MacBook Air: style over substance
The Air's perhaps the wrong side of a kilo - it feels heavier than, say, an Eee PC or a Toshiba Portégé R500 - but the weight comes from its aluminium shell, which gives the Air a reassuring solidity. It's not a ruggedised machine, sure, but the lid doesn't flex like the R500's does, and being metal it'll be more resistant to the bumps and scrapes a laptop taken on the road will inevitably take.
On the left-hand side, you'll find the Air's MagSafe power port. The unit's 45W AC adaptor is wonderfully compact and equipped with Apple's customary simple but effective fold-out cable wrapping mechanism. It has a new connector, but that's only because the regular one won't fit onto the Air when the laptop's sitting on a desk. But we tried the Air with a regular MacBook Pro power brick and it worked just fine.
Being as curved as it is, the Air barely has a front worthy of the name. Closed, the laptop's edge is just 4mm thick and, at the front, home to a white LED that pulsates when the Air's asleep, and an infrared port for the - now optional - Mac remote control. The rear is unadorned, the hinge section fitting flush with the edge of the lid and base. Like the MacBook Pro, the Air's hinge is covered with a plastic panel that provides a window for wireless signals.