The Air's three ports are on the right-hand side, within a fold-out panel that's remarkably effective and feels well made. The 3.5mm headphone socket, USB 2.0 port and mini DVI port - adaptor cables are bundled for full DVI and VGA - are gently spring-loaded and not remotely as flimsy as these kind of mechanisms so often are.
Again, the unit closes flush with the casing, though there's a gap above it to allow you to flip the ports open. This is easy enough to do when the laptop's held on its edge, but tricky when flat on a desk, a result of the narrow gap between desk and laptop edge, not the mechanism itself.
There's no catch to hold down the Air's lid, but there's enough strength in the hinge to hold it down. The front of the Air has an indentation to allow you to reach under the lid's edge and lift it up with a finger. That's sufficient pressure to open the lid with out pivoting the base too, until you get the lid past the vertical. There's sufficient friction in the hinge to keep the screen wherever you place it.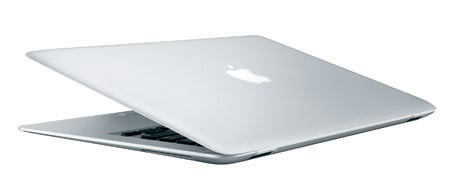 Well-hinged
The glossy 13in, 1280 x 800 display is wonderfully clear and crisp, though no more so than any other LED-backlit screen we've seen. But while the horizontal viewing angle range is great, in the vertical it's pretty poor. Again, that's par for the course on laptops these days.
The Air's screen bevel is surprisingly wide but not intrusive. It's clear the Air's the size it is in order to make room for its large touchpad. The width of the LCD is barely bigger than that of the keyboard, and had Apple implemented an ordinary touchpad, it could have shaved a good 1.5cm off the width of the Air.
The touchpad is big because Apple's enabled iPhone-stye gesture input: draw two fingers apart to zoom into pictures and the like, then turn them to rotate images. It works as well as it does on the iPhone - pictures zoom and rotate smoothly and without lag - but where it's essential on the handheld, here it seems a gimmick.
The keyboard's lozenge keys are very good to type on, and there's none of the bend you get with some laptop keyboards - the Air's keyboard is mounted solidly. The keyboard backlight - activated manually or whenever the light around you dims - is welcome, as is the addition of dedicated keys for Mac OS X's Exposé and Dashboard features. We'd have rather had wireless enable/disable buttons than the media playback controls, but each to their own.
And what's with an Eject key on a optical disc-less laptop?