The customary webcam - nothing special, but good enough for our Skype calls - sits above the screen next to two tiny, circular grilles, one for the microphone, the other over the Air's ambient light sensor. The lid has a thin pad running around its entire length to cushion the display when it's stowed.
Internally, the basic Air has a 1.6GHz Core 2 Duo processor - one of the older, 65nm models, not a new, 45nm one - and 2GB of dual-channel 667MHz DDR 2 memory, all soldered to the motherboard, so completely un-upgradeable. To reach it, you have to remove ten tiny philips screws, which allows you to take off the Air's base and view the long, thin and flat battery. It also lets you get at the 1.8in parallel ATA hard drive - or SSD, if you choose that expensive option; you also get a 1.8GHz CPU - but it's a 5mm-high model and there aren't many of those around, certainly none larger than 80GB.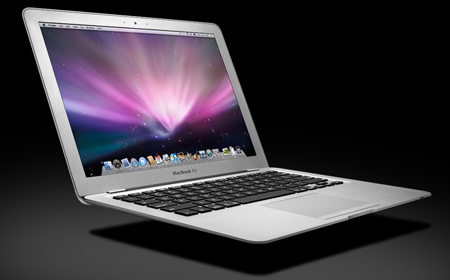 Thin but tough
Our 1.6GHz Air has a Samsung SpinPoint N2 drive spinning at 4200rpm. But loading apps and files wasn't noticeably slow in most cases. The Air starts up a little less quickly than a MacBook Pro with a 5400rpm SATA drive, but not radically so. You'll have gathered from the spec that the Air isn't a powerhouse machine, and if you don't treat it like one, you won't be disappointed with its overall performance.
The screen's driven by the Intel GMA X3100 graphics engine built into the Air's chipset. It grabs a maximum 144MB of the 2GB Ram built into the laptop, but that leaves plenty for all the tasks the Air is designed for. This is a machine for running general productivity apps and communications software, and while you can do photo and video editing, it's not a pro machine. If that's what you need, get a MacBook Pro. The GPU can do games, but again this isn't a laptop for serious gamers.
We tried the Air as a second, travel-centric companion to but not a replacement for our 15in MacBook Pro workhorse. As such, the Air performed admirably. Performance is good with a wide range of commonplace apps, and there's enough storage for a decent selection of media. Like Apple's long-discontinued PowerBook Duo sub-notebooks, the Air is best seen as a secondary machine not your prime computer, unless your performance and/or storage demands are small.