Even so, the Air's not without its flaws. We've already mentioned the very spartan array of ports, but there's another: the design of cooling system. The Air pulls air in through the keyboard and vents it out of a grille on the base, or vice versa. That's fine when you're using the air on a desk, where the airflow will be unimpeded, but it makes it tricky to use perched on your thighs. Do so and you'll block the vents.
MacBook owners might be wary of doing this in any case, having experience high Apple laptop baseplate temperatures, but the Air's a different beast that runs much cooler than the company's other machines. It's a lot cooler than the MacBook Pro when running exactly the same set of applications. Push the processor and upper and lower surfaces will warm up but never get unpleasantly hot as the MacBook Pro can. The fan will rev up in such circumstances, but we never found its hum intrusive.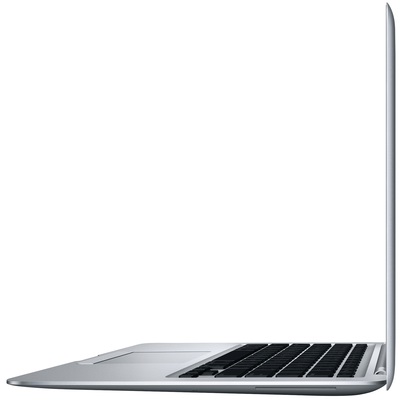 Missing ports not missed
As it turned out, we didn't mind the absence of an optical drive or multiple USB ports either, but that's no excuse for not building either an extra USB or a Firewire port into the Air's array, and an Ethernet socket, for that matter. Apple's £19 USB-to-Ethernet adaptor works well enough but, like the remote control, really should have come bundled, given the Air's price.
The standard, hard drive version retails for £1199/$1799, to which you can add £829/$1299 for the SSD version. The price is high when compared to Apple's more mainstream laptops but less than what Toshiba is charging for its entry-level R500, and Sony for the Vaio TZ1. Like those machines, the Air is a niche product, aimed at folk willing to pay more for a machine that's as portable as possible. And the Air is certainly very portable.
So too are the Sony and the Toshiba but without the sacrifices Apple felt it necessary to make to get its machine so thin. A little more thickness for extra ports wouldn't have been much of a compromise and still left the Air with a slightly bigger screen and keyboard, and a faster CPU than the TZ1 and R500. Better looking too - that's enough of a differentiation without having to be thinner into the bargain.