Over three quarters of American IT workers use memory sticks for work-related purposes, and most corporate heads don't have a clue about the peril they face as a result of the stick love.
Or so that's what SanDisk discovered via a survey commissioned to explore the risks of using unsecured USB flash drives in enterprise organizations.
The memory vendor wants to remind IT management to be good and scared over the prospect of their apparently oafish and forgetful grunts stuffing these 'devil sticks' with sensitive information like it was Paxo Sage & Onion.
SanDisk's numbers came from a commissioned phone survey conducted in the US in March 2008 by Applied Research-West.
About 77 per cent of surveyed employees use flash drives at work. When corporate IT leaders were asked to estimate the number of employees they thought used personal flash drives, on average they said only 35 per cent.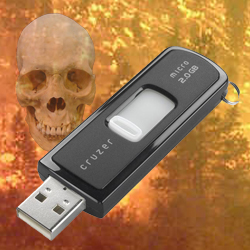 You...should...have...listened...
Tut, tut, says SanDisk. Because end-user respondents also said that data they were most likely to copy onto a memory stick includes customer records (25 per cent), financial information (17 per cent), business plans (15 per cent), employee records (13 per cent), marketing plans (13 per cent), intellectual property (six per cent) and source code (six per cent).
(We'll suppose the remaining 11 per cent consists of goatse and humorous photos of cats, which to be fair can be equally nefarious when in the wrong hands.)
This security lapse might be okay if the survey didn't indicate approximately one in ten end-users reported finding a flash drive in a public place. When asked to pick the three most likely actions they would take if they found a memory stick in public, 55 per cent said they would view the data.
"Surely there are measures in place to protect our precious data," you may be thinking. But about 44 per cent of polled employees said, to their knowledge, their company does not have a policy that forbids copying corporate data to a personal USB flash drive.
And why should a memory stick maker tell us to panic over the misuse of memory sticks? Oh ho ho, well it just so happens SanDisk sells secured flash drives aimed at corporate use.
Just yesterday SanDisk announced version 3.0 of its Central Management and Control software for its Cruzer Enterprise USB flash drives. Perish the thought of us being overly-cynical, but not a moment too soon!
Bootnote
But seriously folks, flash drive security for corporations is no laughing matter.
By the way, if anyone in the Silicon Valley area finds a red thumb drive with a vulture logo on it — don't look inside. And if you already did, that's...uh...you should know the contents are perfectly legal in the country it was uploaded from. ®
Related Reviews
IronKey 1GB secure USB Flash drive
SanDisk Cruzer Pro, Enterprise secure USB Flash drives