In a straight head-to-head in PCMark05 there was nothing to choose between the two processors, which is much as you'd expect. The Penryn processor has only a tiny advantage in this benchmark as it is a couple of years old and doesn't use SSE 4. It was a similar story in 3DMark06 which is, of course, a graphics test. The overall score was the same for both processors, although the CPU element was very slightly better for the Penryn.
PCMark05 Results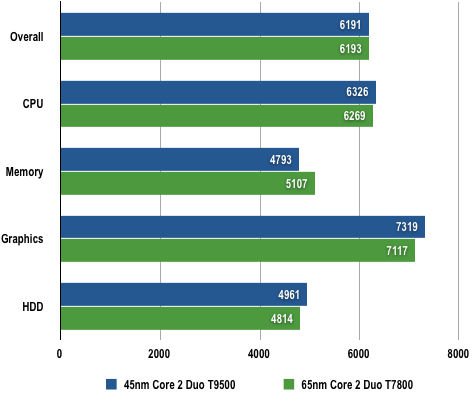 Longer bars are better
3DMark06 Results

Longer bars are better
The POV-Ray graphics rendering test showed Penryn in a better light as the new core is more efficient than Merom, but it's unlikely that many people will use their Rock laptop to render pro graphics.
POV-Ray 3.7 Beta 25 Results

Time in Seconds
Shorter bars are better
These three tests show the highest increase in performance you're going to get in games, which are typically limited more by the GPU than the CPU. So, yes, you'll get a higher framerate with the T9500 than the T7800, but not a significantly higher one.