Japanese laptop maker Kohjinsha has rolled out a pair of Eee PC challengers, taking on the elfin sub-notebook with a pair of similarly sized tablet-style units incorporating 80GB hard drives.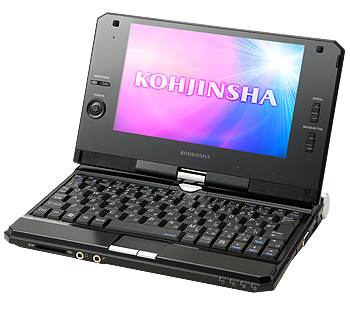 Kohjinsha's SA5KXO8AL: watch out, Eee PC
Fortunately, neither the SA5KXO8AL and SA5KXO8FL run Windows' Tablet PC Edition - they come pre-loaded with XP Home Edition instead. The operating system runs on the machines' 500MHz AMD Geode LX800 processor, which is backed with 512MB of 333MHz DDR 2 memory and said HDD.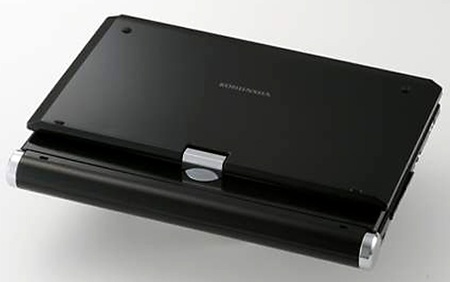 Tilt...
Like the Eee, the Kohjinsha SCCs (Small, Cheap Computers™) sport 7in, 800 x 480, LED-backlit displays, though here they're mounted on a swivel to allow them to be used tablet-fashion.
The new sub-notebooks measure 218 x 163 x 25.4mm - all slightly less than the Eee's dimensions. But the Eee's lighter: 890g to 945g.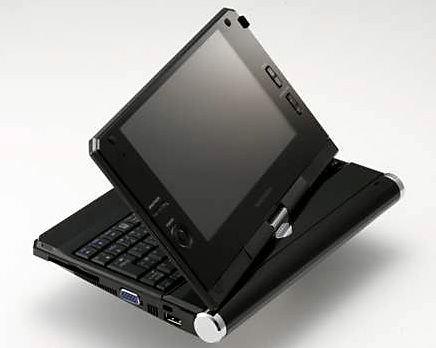 ...and swivel
The Kohjinsha SCCs have 802.11b/g Wi-Fi and 10/100Mb/s Ethernet for connectivity. They have two USB ports, a three-in-one memory card reader, a CompactFlash slot, audio jacks and a VGA connector.
Kohjinsha claims the units' battery is good for up to five hours' runtime.
The SA5KXO8AL is priced at ¥59,800 ($591/£300/€374), the SA5KXO8FL at ¥79,800 - the premium buys you a copy of Office 2007 Personal Edition.