Updated Asus has formally launched the second generation of the diminutive Eee PC sub-notebook, the 900. It confirmed the specs announced when it first unveiled the little laptop, but it was decidedly coy when it came to the machine's CPU.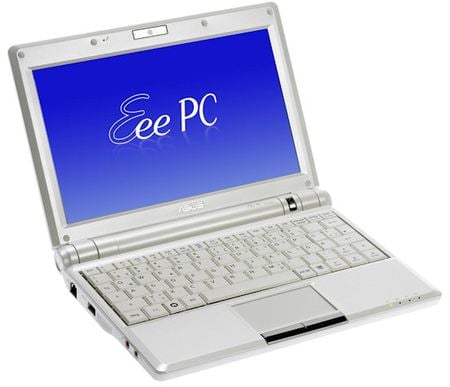 Asus' Eee PC 900: bigger screen, more storage space
The 900 is based around an 8.9in, 1024 x 600 display. It'll contain 1GB of DDR 2 memory and a choice of 12GB or 20GB of solid-state storage, depending on which operating system you opt for. Both capacities are configured as two partitions: one 4GB space and either 8GB or 16GB.
The 20GB model will come with Linux, Asus said, while the 12GB version will be pre-loaded with Windows XP Home Edition.
Connectivity comes courtesy of 802.11b/g Wi-Fi and a 10/100Mb/s Ethernet port. The 900 has three USB ports, a VGA connector and the same audio jacks found on the Eee PC 701. Like the older model, the 900 has a 1.3-megapixel webcam.
The laptop gained a little size and weight: it's now 22.5 x 17 x 2-3.38cm and 990g. The 701 is 22.5 x 16.5 x 2.5-3.5cm and 890g, so there's not much in it.
As revealed by the 900's manual, the machine's small touchpad can read gestures as well as simple taps, a feature Asus calls FingerGlide.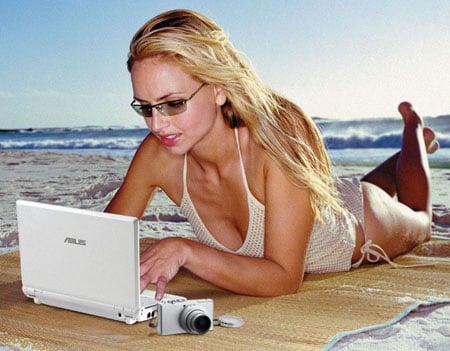 Asus Eee PC and friend: looking forward to FingerGlide
So far, all as expected, but when it comes to the 900's chippage, all Asus would say is that the machine will incorporate an "Intel Mobile CPU" and an "Intel Mobile Chipset".
Intel hasn't formally launched the line of Atom processors - codenamed 'Diamondville' - that have been designed for sub-notebooks, so Asus may simply be unwilling to refer to them directly. Asus CEO Jerry Shen has said in the past that the Eee family will gain Atom CPUs in due course.
However, while Atom is the most obvious choice for the 900's CPU, it has been claimed that Asus will use a Core 2 Duo instead, in order to get the 900 to market before Diamondville's June debut.
The other thing Asus failed to mention was when its many Eee fans will be able to get their hands on the new model, or how much it will cost them.
Update
Attendees at Asus' Asian launch today suggest that the 900 will actually use a Celeron M processor as per the 701. But where that machine had the chip set to run at 630MHz, the 900's runs at - yes - 900MHz.
It'll go on sale in Hong Kong on 19 April for HK$3998 ($513/£262/€324).
Similar topics