This article is more than 1 year old
Predator kill-machine pilots suffering 'chronic burnout'
Vegas-based droid jockeys asleep at the stick
A US military report says pilots operating the well-known Predator drone aircraft suffer far higher levels of mental stress than flyboys who are physically present aboard their planes.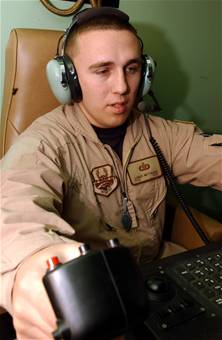 Too much time staring at a screen, controller
in hand, can impair domestic relationships.
According to the report's authors, a group of US officers, "crewmembers in a MQ-1 Predator unmanned aircraft system (UAS) squadron had significantly increased fatigue, emotional exhaustion, and burnout relative to traditional aircrew". The study allowed for the present very high level of demand for Predator flights by comparing the drone operators against similarly hard-worked aircrews aboard AWACS airborne radar planes.
The revelation that safe, remote drone operations seem to tire pilots and sensor-operators out faster than being airborne above warzones comes in the snappily-titled A Resurvey of Shift Work-Related Fatigue in MQ-1 Predator Unmanned Aircraft System Crewmembers (pdf), flagged up at Flight International's DEW Line blog.
The authors say changes to shift patterns worked by the drone jockeys haven't really helped: their work is just extra tiring and stressful compared to flying airborne missions.
According to the report, survey results "indicated a pervasive problem with chronic fatigue... Nearly 50 per cent of surveyed crewmembers met the diagnostic threshold for levels of daily sleepiness which can be expected to adversely impact job performance and safety".
Worrying stuff, when speaking of people handling deadly aerial kill machines packing smart bombs and laser-guided Hellfire missiles. It seemed that the weary remote-control warriors even suffered "impaired domestic relationships".
Of course, there could be other factors in play here. Predator pilots in the US air force have typically been reassigned from normal airborne flight duties, and given the ordinary military flyboy mindset* this probably isn't seen as a step up. The droneboys may be suffering from sleepiness on the job, burnout, failed relationships, etc, because their macho self-image has been destroyed. Conceivably, the real fighter pilots taunt them, snap towels in the locker room, etc.
Alternatively, some might point out the location from which the Predator is handled during missions: Nellis Air Force Base. Which is right next to Las Vegas, a place long known for disrupted sleep patterns, burnout, and impaired domestic relationships. ®
*Perhaps most succinctly expressed by the old saying: "If you don't know who the greatest fighter pilot in the world is ... it isn't you".