This article is more than 1 year old
Cowon Q5W media player
The killer PMP/internet tablet combo?
On the left of the home screen are icons for Media, Office, Utility, Network and Windows. Tap on any icon and a new set of icons appears on the right of the screen - so tap Media and you see icons to access Movies, Music, Radio and Flash. Tap Network and you get icons to access MSN, IE Explorer and the wireless control panel. It's simple and effective but makes the underlying CE system seem ever more horrid by comparison.
Navigation around Wing Click is straightforward, and since all the icons are labeled you don't have to remember what they do. The majority of media commands can also be accessed via the various wing icons so you don't actually need to touch the screen other than at the peripheries, and that keeps fingerprint smudges down to a minimum.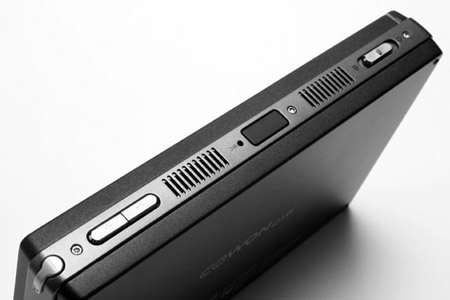 External controls on the Q5 are limited to the volume and on/off switches
Once the Q5 is working as a PMP, it really hits its stride. To start with, the quality of the screen was everything we expected it to be. The 800 x 480 resolution and ability to display 16.7 million colours are spot on for this kind of gadget. The screens is every bit as bright, colourful and well-defined as that on the A3, just an inch bigger corner to corner.
Audio performance was equally good, with solid bass, well-balanced treble and a fine sense of detail, the latter especially noticeable in the classical repertoire. There's plenty of volume on hand too. Of course, this was with our trusty Sennheisers, the supplied earphones not really being up to much.
Video playback is accompanied by a comprehensive suite of controls, including bookmarks, screen capture, variable playback speed, manual subtitle adjustment and auto or manual aspect ratio settings. Cowon's JetEffect system allows more user-definable audio enhancements than you can shake a stick at.