This article is more than 1 year old
Cowon Q5W media player
The killer PMP/internet tablet combo?
One feature absent from the Q5 is the capacity to record line-in audio or video - another thing the 'lesser' A3 can do that the Q5 can't. On the upside, you can pump content out to your TV as either a composite or component RGB signal.
Having a Microsoft motor under the bonnet means the Q5 comes pre-loaded with Windows Messenger and Windows IE. We're not exactly sure what version of Internet Explorer it is, but it looks more than a little primitive and its list of failings is lengthy: it doesn't support tabs, its efforts to size web pages to fit the browser screen are half-baked, the menu buttons are far too small even for stylus use, it doesn't support RSS feeds, and the text in the address bar is much too small to be easily legible.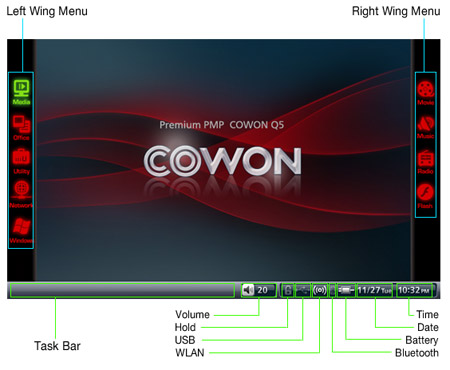 The quality of the screen is excellent. The UI's not bad either
Trying to access streaming video content didn't bring us much joy either. When we tried to launch BBC iPlayer we were told we had an old type of Flash. Following the link to the Adobe download page we were then told our OS didn't support the latest version of Flash... so no iPlayer. And no YouTube, either - the browser trying and failing to launch videos in Media Player. At least the browser managed to open internet radio station feeds using the media player, a small redeeming feature.
Windows CE Messenger looks like a dated version of the real thing, and while a small forward-facing camera to allow for webcam chat would have been a nice addition, at least you can plug in a headset and make voice calls to other MSN users.
Peripheral functionality on the Q5 includes Bluetooth, but only for connection to stereo headsets, so no being clever and accessing the net via a 3G phone. It also has the capacity to act as a USB host, allowing for the direct transfer of data from cameras and the like. We tried to transfer piccies from Nikon and Fuji cameras, but the Q5 refused to recognize either when they were plugged into its full-sized USB port. Whether this is a systemic failing or just a glitch in the mass storage facility on our test unit remains unclear.