This article is more than 1 year old
Cowon Q5W media player
The killer PMP/internet tablet combo?
The Q5 also has a built-in FM radio, which lacks RDS and needs the earphones cable connected to get any sort of reception. There's a little remote control that is fussy over what angle you use it at, and there's also Windows CE Office Viewer and MS WordPad, though how much use these are on a device whose main uses are media playback and web browsing is debatable. A good selection of AV cables and a handy combined USB to USB and mini USB cable also come in the box.
Wireless signal reception proved to be a bit of an issue during our time with the Q5. Much of the test took place in an office in which Wi-Fi reception is close to perfect, despite being on a different floor from the router. Certainly laptops show either a 'Very Good' or 'Excellent' signal, as did the HTC S730 smartphone, a Nokia N810 and Archos 705 we recently had on test. The Q5, however, would only show a half-decent signal on the ground floor, and even then only when virtually in line of sight with the router, which is pretty poor in our book.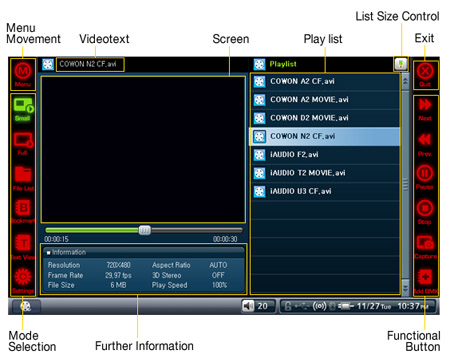 Some of the applications are somewhat dated
During our test we found the manufacturer's predictions of a battery life of seven hours for video or 13 for audio to be about right. We got a shade over twelve-and-a-half hours of continuous audio playback, and six-and-a-half of video.
The Q5's biggest problem is price. At around £390 for the 40GB model it's a whole £100 more expensive than the 60GB A3. It also looks costly when stacked up against the Archos 705, which can be had in 160GB form for around £360, or for just over £300 in 80GB form. If you can stomach a 0.7in drop in screen size, then buying the 30GB Archos 605 will save you even more money.
Verdict
As a PMP, Cowon's Q5 is very, very good. But, like the Archos 705, it rather trips over itself when it tries to be an internet tablet. That raises the question, why buy the Q5 rather than the A3? Take away the Wi-Fi and Bluetooth headphones connectivity, and when all is said and done you are paying a fair bit extra just for an extra inch of screen, and less file and codec support.
In our book there's still a large gap in the market for a successful combination of PMP and internet tablet. A 32GB iPod Touch with comprehensive file and codec support would do the trick - until then we are going to see what we can do with a Nokia N810, a Cowon A3 and some Araldite.
The Q5 review unit was supplied by Advanced MP3 Players

Cowon Q5W media player
A fine if expensive media player, but still not the killer PMP/internet tablet combo we were hoping for.
Price:
£398 (40GB) / £419 (60GB) RRP