In days gone by, a cutting-edge watch was one that could change TV channels or that had a built-in calculator. But now the world's first quad-band Windows Mobile watch-phone has been unveiled.
The watch operates over 850, 900, 1800 and 1900 bands. Although the watch is barely bigger than a SIM card itself, one slides into the watch in an unspecified location to enable users to make calls from the phone through a Bluetooth headset.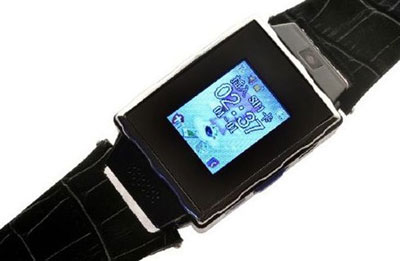 Windows Mobile watch: become a walking and talking timepiece
At 1.4in, the phone's display is pretty pathetic, but it's claimed the screen supports handwriting recognition too. The wrist-mate also has an integrated 1.3-megpixel camera to reinforce that James Bond feel, although the watch probably can't pull boats towards it with a super-strong magnet.
Still images, MP3 audio and MP4 video content can be stored on the bundled 512MB Micro SD memory card. Specifications also state that the phone supports Wi-Fi connections and includes a GPS chip to turn the timepiece into a miniature satnav.
The watch-cum-phone will be available online next week for around $630 (£315/€340). Register Hardware hasn't clocked onto a UK release date or price yet.